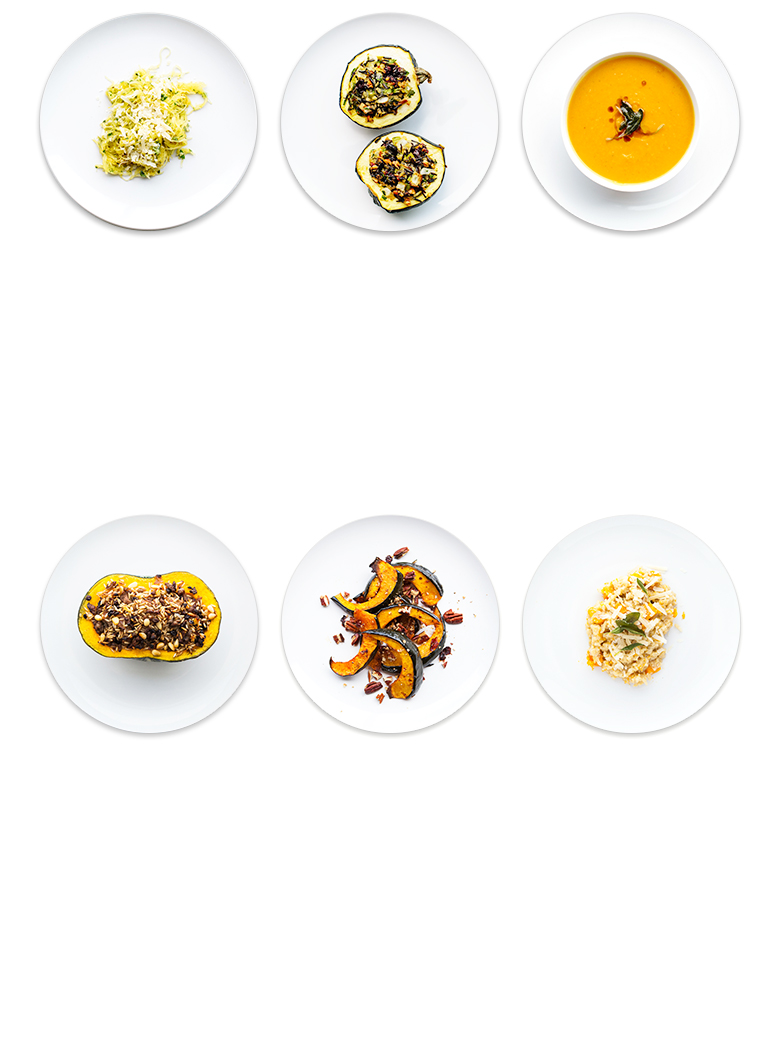 Spaghetti Squash "Pasta"
Drizzle halved, seeded spaghetti squash with olive oil and season with salt and pepper. Roast until tender.
Scrape squash with a fork to form "noodles." Toss with melted butter, chopped parsley and grated parmesan.
Stuffed Acorn Squash
Combine sautéed diced onions and celery with cooked wild rice and brown rice, dried cranberries and chopped pecans and parsley.
Halve and seed acorn squash. Drizzle with olive oil and sprinkle with brown sugar, salt and pepper. Roast at 450°F until tender, stuffing with rice mixture halfway through roasting time, about 45 minutes total.
Butternut Squash Soup with Brown Butter
In a Dutch oven, sauté diced onion, celery and carrot with minced garlic. Add diced butternut squash, stock and chopped thyme and sage. Simmer until squash is tender.
Puree soup until smooth and season with salt and pepper. Drizzle with brown butter and garnish with fried sage leaves.
Kabocha Squash Stuffed with Lamb & Currants
Halve kabocha squash and scoop out seeds.
Sauté diced onion in olive oil; add ground lamb, cumin and cardamom and sauté until browned. Fold in cooked rice, currants and pine nuts.
Fill squash with lamb mixture and roast at 375°F in an oiled dish until squash is tender, 40 to 50 minutes.
Roasted Acorn Squash with Chipotle
Cut acorn squash into 1-inch wedges; toss with olive oil, minced chipotles, a touch of maple syrup, salt and pepper.
Place squash on a nonstick baking sheet; roast at 400°F, turning wedges over once, until tender, 45 to 60 minutes.
Butternut Squash & Sage Risotto
Sauté a chopped onion in 3 Tbs. olive oil until softened. Add 1 cup Arborio rice; stir 3 minutes. Add 1/2 cup white wine; stir until absorbed. Add warm chicken broth 1/2 cup at a time, stirring frequently, waiting until liquid is absorbed before adding more.
When rice is tender, fold in 2 cups cooked, diced butternut squash. Sprinkle with parmesan and top with fried sage.

Availability
Some winter squash varieties are available year-round, but the widest selection is found during fall and winter.
Selecting
Squashes should be firm and unblemished and feel heavy for their size.
Preparing
Using a chef's knife, cut winter squashes into halves or wedges. Using a large metal spoon, spoon out the seeds and strings, then peel the squash. Small winter squashes, such as acorns and golden nuggets, are the perfect size for halving, stuffing and baking. Large squashes, such as butternut, may be sliced and baked, or cut into pieces, then cooked and pureed. Sliced or cubed squash is also good in soups and stews or glazed and baked.
Storing
Cut winter squashes may be kept in the refrigerator for up to 1 week; whole winter squashes may be kept for months in a cool, dark place.
All Ingredients