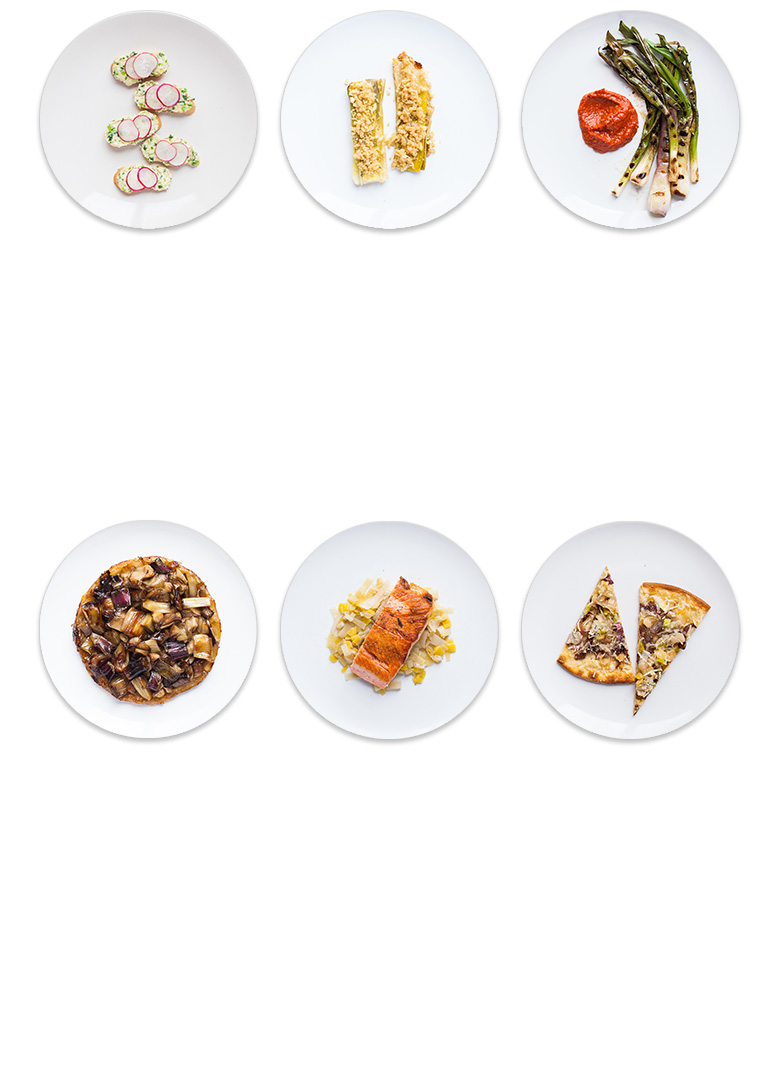 Ramp Butter
Blanch ramps; squeeze dry.
Chop finely.
In stand mixer, beat softened butter, ramps, salt, pepper and lemon zest. Shape into a log; wrap with plastic wrap. Refrigerate until firm.
Cut butter into rounds. Spread
on crostini; top with thin
radish slices.
Braised Leek Gratin
In covered fry pan, simmer trimmed halved leeks with chicken stock until just tender. Transfer to buttered baking dish.
Combine bread crumbs, olive oil, chopped thyme and shredded Gruyère. Sprinkle over leeks.
Bake at 400°F until bubbly
and golden.
Grilled Ramps & Spring Onions with Romesco
In food processor, process peeled roasted red peppers, roasted tomatoes, slivered almonds, garlic, olive oil, red wine vinegar, smoked paprika, salt and pepper
until smooth.
Toss trimmed ramps and spring onions with olive oil, salt and pepper. Grill until tender. Serve with romesco.
Spring Onion Tarte Tatin
In cast-iron skillet, melt 3 Tbs. butter with 1 Tbs. sugar.
Add thick slices of spring onions, salt and pepper. Cover and cook, turning onions occasionally, until caramelized. Add balsamic vinegar; cook until syrupy.
Place puff pastry round over onions. Bake at 375°F until golden. Invert onto platter.
Melted Leeks with
Seared Salmon
Season salmon with salt and pepper. Warm a large pan until very hot and sear salmon on both sides until salmon is just opaque
in the center.
In fry pan, melt butter. Add thinly sliced leeks, chicken stock, salt and pepper. Cover and cook slowly until leeks are very tender. Stir in chopped chives.
Transfer to plate; top with
seared salmon.
Spring Allium Pizza
In food processor, puree roasted garlic cloves, olive oil, salt and pepper. Brush on pizza dough round.
Top with caramelized red onions, sautéed shallots and leeks and grated pecorino romano.
Bake at 500°F on preheated baking stone until crust is crisp. Sprinkle with chopped green onions and minced chives.

Availability
Spring onions and baby leeks are available in early spring, March and April. Ramps have a very short season, usually only a few weeks in late March-early April.
Selecting
The tops of spring onions and baby leeks should be bright green and firm, not wilted. The bulb ends of leeks and ramps should be white and shiny. Avoid dried roots or wet bulbs.
Preparing
Wash green and spring onions thoroughly, taking care to remove any dirt or grit from the bulbs. To prepare leeks, trim off the roots and the tough, dark green tops of the leaves. If the outer layer is wilted or discolored, peel it away and discard. Quarter or halve the stalk lengthwise. If using the leek whole, leave the root end intact. Rinse the leek well under cold running water, separating the layers and rubbing the leaves to remove any silt between them.
Storing
Store spring alliums in a plastic bag in the refrigerator for up to 5 days.
All Ingredients