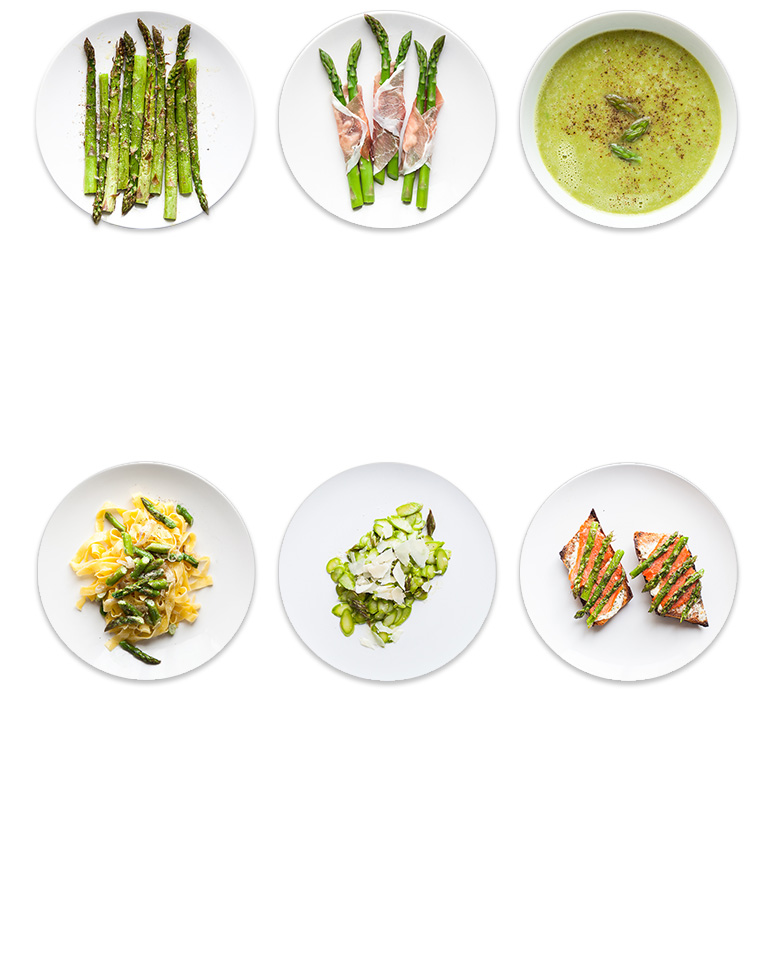 Quick-Roasted Asparagus
Toss asparagus spears with olive oil, salt and pepper.
Broil until tender, 3 to 5 minutes.
Sprinkle with salt, pepper and grated Parmesan.
Asparagus-Prosciutto Bundles
Blanch asparagus spears.
Spread thin layer of soft, creamy cheese such as Boursin over thin slices of prosciutto.
Wrap prosciutto around asparagus spears.
Simple Asparagus Soup
Sauté chopped shallots in butter until softened.
Add chicken or vegetable stock and chopped asparagus.
Cook until asparagus is tender. Puree in blender.
Tagliatelle with Asparagus and Mascarpone
Sauté chopped shallots in butter until softened.
Simmer chopped asparagus in salted water until tender. Drain; add to pan with shallots.
Add cooked and drained fresh tagliatelle and mascarpone cheese; toss to combine.
Asparagus Salad
Very thinly slice asparagus spears on the bias.
Whisk together lemon juice, finely chopped shallot, olive oil, salt and pepper.
Toss asparagus with vinaigrette. Top with shaved Parmesan.
Asparagus Tartine with Smoked Salmon & Cream Cheese
Brush slices of toasted bread with olive oil. Turn over; spread with chive cream cheese.
Top with single layer of smoked salmon. Top with lightly oiled asparagus spears, salt and pepper. Broil until asparagus is crisp-tender.

Availability
Asparagus is an early spring treat at the farmer's market, generally appearing in early March through April. Though widely available all year long, it is most delicious in its true season.
Selecting
These tall, crisp-tender spears can be pencil-thin or as thick as a thumb. Look for firm stalks and tight, dry and often purple-tinged tips, avoiding those that are moist looking. The cut end should look freshly cut and not too dried out. If there is slight spreading at the top, the spears are still good. The length of the stalk should be all or mostly green. The white at the bottom should be discarded before cooking. A purple variety of asparagus, which turns green when cooked, tends to be a little sweeter than regular asparagus.
Preparing
Bend the stalks until they snap at their natural breaking point, or trim to similar lengths and use a vegetable peeler to get rid of the thick, fibrous end. Steam or boil fresh spears vertically in an asparagus steamer or horizontally in a large fry pan (not a crowded saucepan) and serve hot, topped with melted butter and a squeeze of lemon juice, or cold, dressed with vinaigrette. Asparagus can also be coated with olive oil and roasted at a high temperature or grilled. Slender spears are good sautéed in a bit of olive oil or butter and tossed with pasta; stockier spears are great additions to soups and stews.
Storing
It's best to cook asparagus right away, but you can cut an inch or so off the stalk at the base, set the bunch in a shallow pan of water and refrigerate for up to 4 days.
All Ingredients