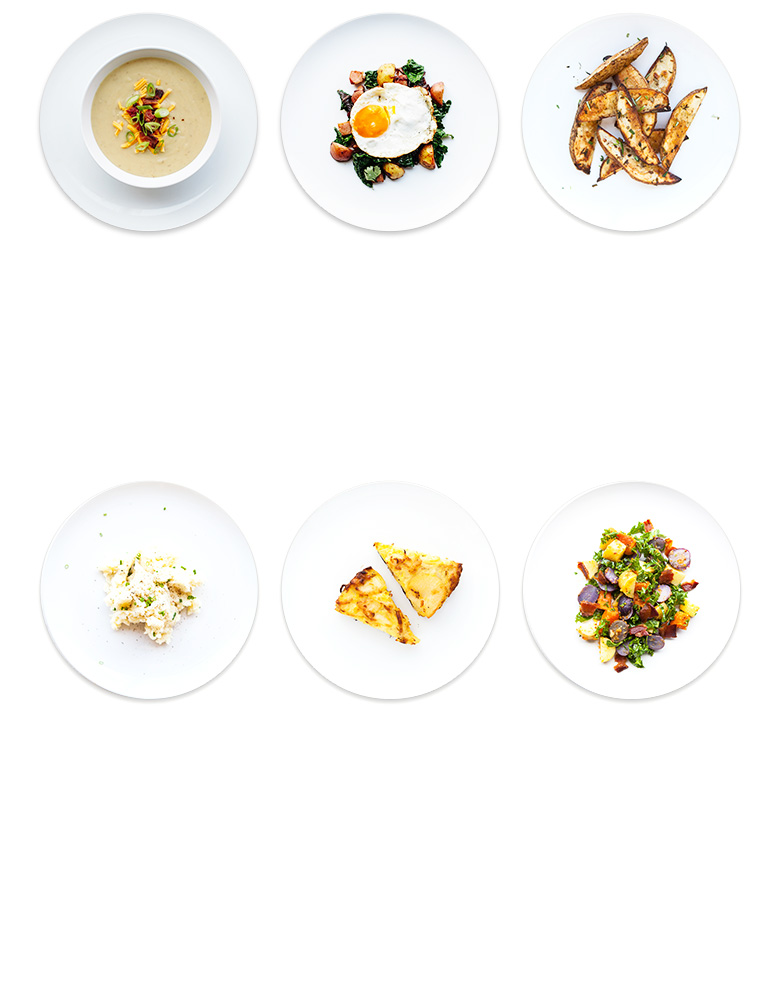 Baked Potato Soup
Sauté diced onions, leeks and celery. Add chopped thyme, diced russet potatoes and equal parts milk and stock; simmer until potatoes are tender. Season with salt and pepper.
Puree soup, if desired, or serve as is, topped with shredded cheddar, browned bacon and sliced green onions.
Potato Hash
Cook whole baby potatoes in boiling salted water until tender; drain and let cool, then halve.
In a fry pan, brown potatoes in olive oil. Stir in caramelized red onions, diced ham and coarsely torn kale and warm through. Top with a poached or fried egg.
Oven-Roasted Fries
Cut russet, Yukon Gold or other potatoes into wedges 1/2 inch thick. Toss with olive oil, salt, pepper and spices or chopped fresh herbs. Spread on a baking sheet.
Roast at 425°F, turning once, until tender, 35 to 40 minutes.
Smashed Potatoes with Crème Fraîche
Cook peeled and diced russet potatoes in boiling salted water until tender; drain.
Return potatoes to pan; mash with crème fraîche, warm milk and butter. Season generously with salt and pepper; fold in minced chives.
Tortilla Española
In a nonstick pan, fry 2 lb. sliced, peeled baking potatoes in 1/2 cup olive oil until tender; reserve oil in pan.
In another pan, fry 2 thinly sliced onions in 2 Tbs. olive oil until soft. Whisk 6 eggs; fold in potatoes, onions, salt and pepper. Heat reserved oil; cook egg mixture until bottom is set. Invert tortilla onto plate; return to pan and cook until set.
Rainbow Potato Salad with Kale
Cook peeled and diced purple, fingerling and sweet potatoes in boiling salted water until tender; drain and let cool.
Whisk together red wine vinegar, coarse mustard, olive oil, salt and pepper.
Toss potatoes with vinaigrette. Fold in crisp chopped bacon and finely chopped raw kale.

Availability
Potatoes are available year-round but are widely used in fall and winter cooking.
Selecting
Potatoes come in two main varieties: starchy, which become light and fluffy when cooked, or waxy, which are ideal for roasting or boiling for potato salads. Choose firm specimens that are not blemished, wrinkled, tinged with green or cracked. The buds, commonly called eyes, of the potatoes should not have sprouted.
Preparing
Potatoes are used both peeled and unpeeled. Whether or not you peel the potatoes, scrub them well with a stiff brush under cold running water to remove any dirt. If baking, prick the skins in a few places with a fork. If peeling, use a potato peeler, cutting out the eyes with a paring knife or the tip of the peeler, if necessary. If the flesh is tinged with green spots, be sure to pare away all traces of them, as they will taste bitter.
Storing
Store potatoes in a cool, dark place with good air circulation for up to 2 weeks. Do not refrigerate and do not store in the same bin with onions. These vegetables together produce gases that cause rapid spoilage. New potatoes have a much shorter shelf life than other potatoes. To make the most of their fresh, sweet flavor and texture, use them within 2 or 3 days of purchase.
All Ingredients