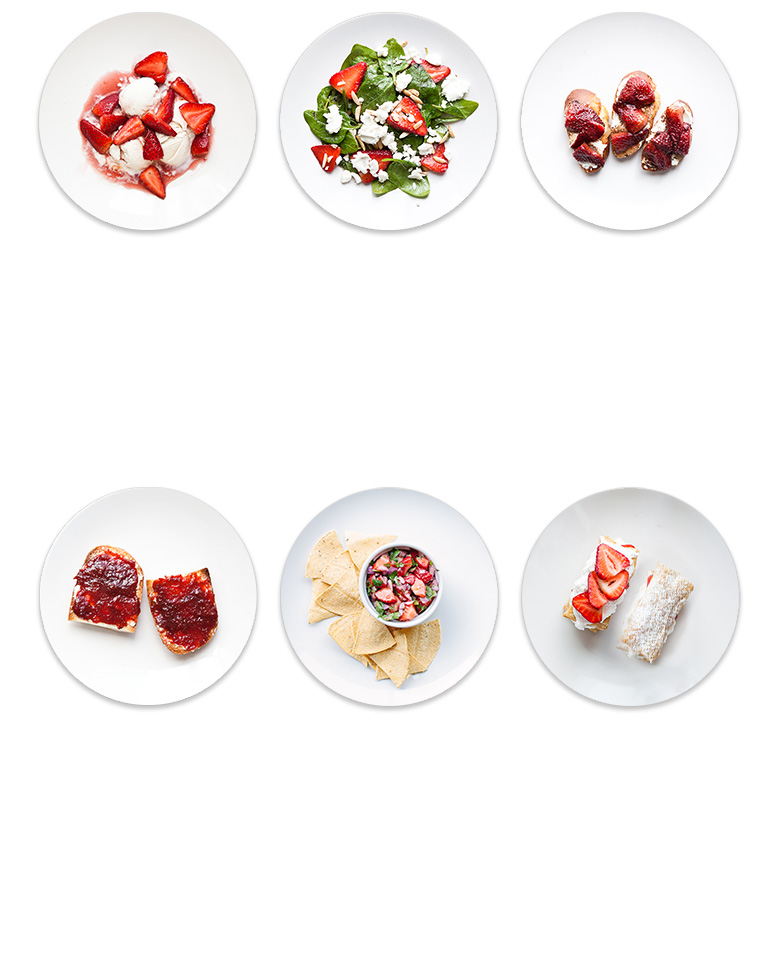 Macerated Strawberries
Stir together red wine, sugar
and lemon zest.
Add sliced strawberries
and let steep.
Use as a topping for ice cream, shortcakes, pancakes or waffles.
Strawberry, Goat Cheese & Spinach Salad
Whisk together olive oil, balsamic vinegar, salt and pepper.
Toss sliced strawberries, baby spinach, goat cheese and toasted slivered almonds with vinaigrette.
Roasted Strawberry & Ricotta Bruschetta
Toss halved strawberries with balsamic vinegar and sugar. Roast in baking pan at 300°F
for 20 minutes.
Spread toasted bread with ricotta cheese; top with strawberries. Drizzle with balsamic vinegar and sprinkle with pepper.
Quick Strawberry Jam
In food processor, puree 1 quart strawberries. Combine in pot with 1/2 cup sugar. Cook until thick and bubbling, about 10 minutes.
Transfer to pint jars; cover and refrigerate for up to 10 days.
Strawberry Salsa
Combine diced strawberries, diced red onion, minced jalapeño, chopped cilantro, lime juice and honey. Season with salt.
Serve salsa over roasted or grilled fish or chicken, or with
tortilla chips.
Strawberry Napoleon
Place twelve 3-inch squares of puff pastry on parchment-lined baking sheet. Bake at 400°F until golden; let cool.
Spread 8 squares with whipped cream; top with sliced strawberries. Stack 2 topped pieces of pastry; cover with plain pastry square.

Availability
Though they are available year-round in groceries, the best strawberries are to be found in farmer's markets in spring and early summer.
Selecting
Look for smaller berries, preferably organic ones, with a rich, glossy red color and shiny green leaves. Avoid berries with white or green shoulders and brown or limp leaves. Never buy them if they are moist, overly soft or show signs of mold. Do not buy berries if their cartons are leaking and wet, a sure sign that unseen fruits will be moldy.
Preparing
Although fresh strawberries should be rinsed, do not soak them for any length of time since they will absorb the water and turn mushy. For eating on their own, strawberries, even very large ones, should be left whole. Hull strawberries before freezing them or using them for most preparations. Use a small paring knife or a strawberry huller to carve out the white center core from the stem end of each berry. To improve the flavor of lackluster strawberries, hull and slice them, place in a bowl and sprinkle with a tablespoon or two of sugar for every pint. Let stand at room temperature for at least 15 minutes. The sugar draws moisture from the berries to make a sweet natural syrup.
Storing
Fresh strawberries are fragile so handle them with care. Don't wash the berries until just before you are ready to eat them, as the moisture will encourage mold. To store strawberries, line a glass or plastic container with paper towels, carefully arrange the berries inside and cover with the lid. They will keep in the refrigerator for up to 1 week.
All Ingredients