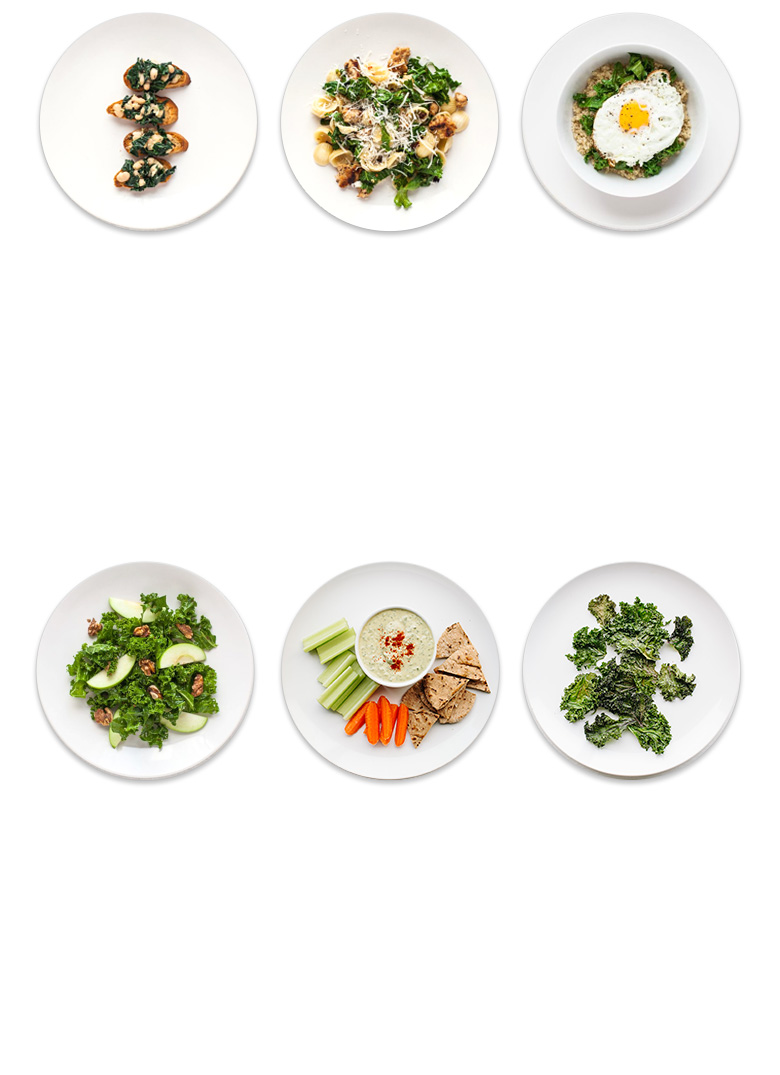 kale & white bean crostini
Brush baguette slices with olive oil; sprinkle with salt. Bake at 350°F until golden.
Sauté chopped Tuscan kale in olive oil until wilted. Add minced garlic and chicken broth. Cover; cook until almost tender.
Add rinsed and drained cannellini beans; cook until broth is absorbed. Mash beans lightly with a fork. Top crostini with kale mixture.
orecchiette with kale & sausage
Sauté diced onion and minced garlic in olive oil until softened. Add crumbled Italian sausage; cook until browned. Drain on paper towels.
Add sliced kale to pan; cook until tender, adding water if needed. Add red pepper flakes.
Return sausage to pan. Toss with cooked and drained orecchiette pasta. Sprinkle with grated Parmesan.
kale-quinoa bowl with
fried egg
Simmer 1 part quinoa in 2 parts salted water until grains are tender and water is absorbed, about 15 minutes.
Sauté chopped kale in olive oil just until tender. Season with salt and pepper.
Fluff quinoa with a fork and spoon into individual bowls. Top with kale and a fried egg.
kale salad with apple & walnuts
In a large bowl, whisk together olive oil, cider vinegar, brown sugar, whole-grain mustard, minced shallot, salt and pepper.
Tear curly kale into small pieces; add to bowl. Thinly slice Granny Smith apples and add to kale.
Add toasted walnuts and vinaigrette to salad and toss to combine.
Kale Hummus
In a large food processor, puree one 15-oz. can drained chickpeas with 1 clove garlic, 4 Tbs. tahini, and olive oil, lemon juice and salt to taste.
Add 1 cup coarsely chopped and tightly packed kale leaves; process until smooth, adding water as needed for a creamy consistency.
Serve with assorted crudités and pita chips.
Kale Chips
Preheat oven to 300°F.
Remove stems and ribs from 1 bunch curly kale; discard. Tear leaves into 3-inch pieces. Toss with olive oil and season with salt.
Arrange in a single layer on 2 baking sheets. Bake, rotating baking sheets and stirring kale halfway through cooking time, until crispy, about 30 minutes.

Availability
Although kale is available year-round in large markets, it's at its peak from late winter to early spring.
Selecting
Look for fresh, crisp leaves free of blemishes, yellowed spots or tiny insect holes. Do not buy kale whose leaves are wilted or dried out. Small, young leaves will have a milder flavor. Look for greens tied in bunches or washed, chopped and sealed in plastic bags.
Preparing
Robust in flavor and high in nutrients, kale is a welcome addition to the winter kitchen. You can toss raw kale into salads or steam or sauté kale and serve it as a healthful side dish. The leaves also make delicious additions to soups, omelettes and risotto. The textured leaves of kale often trap large amounts of dirt and sand, especially the leaves of darker varieties, so wash them well just before using. Fill the sink or a large bowl with cool water, immerse the greens, then lift them out, letting the grit settle at the bottom. Repeat a few times until no grit is left behind.
Storing
Wrap unwashed kale leaves in a clean, damp kitchen towel or damp paper towels, then cover them loosely with a plastic bag. They will keep in the refrigerator for 3 to 5 days.
All Ingredients