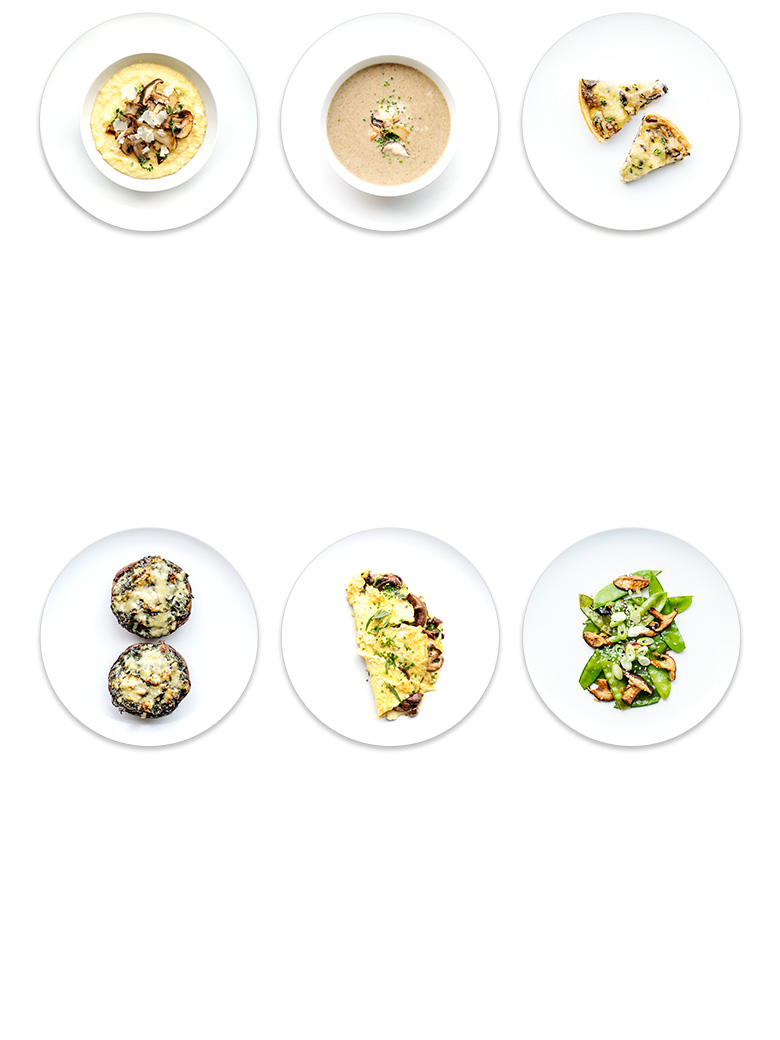 Polenta with Sautéed Mushrooms
Whisk 1 cup polenta into 4 cups boiling water. Simmer until tender, then stir in butter, mascarpone, grated parmesan, salt and pepper.
Sear mushrooms until tender. Add minced garlic, shallot, thyme, oregano, salt and peppers and sauté until fragrant. Stir in a knob of butter.
Top polenta with mushrooms and shaved parmesan.
Creamy Mushroom Soup
Sear mushrooms until well browned. In a large saucepan, sauté garlic, shallots and thyme until fragrant. Add stock and seared mushrooms, and simmer until flavors are melded; season with salt and pepper.
Puree soup and finish, if desired, with a splash of cream. Top with a dollop of crème fraîche and chives.
Wild Mushroom Tart with Roasted Garlic Cream
Combine cream and roasted garlic puree and simmer until thickened.
Sear wild mushrooms and place in a prebaked tart shell. Pour cream mixture over mushrooms and top with grated fontina and thyme leaves. Bake at 375°F until bubbling. Let cool slightly before serving.
Stuffed Portobellos
Remove stems from portobellos and finely chop. Sauté minced garlic, shallots and stems until tender. Let cool, and mix with cooked and drained chopped spinach, cream cheese, grated parmesan, salt and pepper.
Stuff mushroom caps with mixture and top with breadcrumbs tossed with melted butter. Bake at 400°F until mushrooms are cooked through.
Mushroom-Brie Omelet
Whisk eggs with salt and pepper. Melt butter in a nonstick pan. Add eggs and cook, stirring, until small curds form. Swirl pan to distribute remaining uncooked egg.
Place sliced Brie, sautéed mushrooms and chopped tarragon and chives on half of omelet. Fold over remaining half and cook until eggs are just set.
Shiitake & Snow Pea Stir-Fry
Stir-fry thinly sliced shiitake mushrooms in canola and sesame oil until tender. Add trimmed snow peas, minced ginger, chile-garlic sauce and a splash of Shaoxing wine, if desired. Cook until snow peas are crisp-tender.
Finish with toasted sesame seeds and thinly sliced green onions.

Availability
Though available year-round, a larger variety of wild mushrooms is available
in fall.
Selecting
Fresh mushrooms should be firm and have smooth, unblemished caps. Avoid any that are broken, limp, wrinkled, soggy or moldy. Stems with gray, dried ends indicate that the mushrooms have been stored too long. Some mushrooms have closed caps, like the common button mushroom. For these varieties, if the caps are open so that the gills are exposed, the mushrooms are too old. For varieties where the gills are exposed, like portobellos, check that the gills are unbroken. As mushrooms age, they dry out, so the heaviest mushrooms should be the freshest. If you plan to cook mushrooms whole, select those with caps of the same size for even cooking. Check that packaged, presliced mushrooms are not wrinkled or discolored. Mushrooms are also available whole or sliced in jars, preserved in a brine, or marinated with oil and herbs.
Preparing
Mushrooms absorb water readily, becoming soggy and flavorless if left to soak. While some cooks insist that you should not wash mushrooms at all, a quick rinse and a thorough drying with paper towels immediately before cooking will not hurt them. If you have time or plan to cook only a few mushrooms, wipe them clean with a damp cloth or brush. Special mushroom brushes are available for gentle removal of dirt, or a toothbrush with soft bristles will work. Trim the dried end of tender stems; but if the stems are tough, remove them completely and save them for soup or stock. Although mushrooms can be cooked by almost any method, they taste wonderful when simply sautéed in olive oil, with a little garlic, over high heat. Mushrooms are also good tossed with olive oil (be judicious; these little sponges can soak up a lot of oil) and seasonings, then roasted or grilled, gill side up, to retain their juices. To grill small mushrooms, thread them on skewers.
Storing
Refrigerate fresh mushrooms for no more than 3 or 4 days, keeping them in a paper bag to absorb excess moisture. Spread delicate varieties in a single layer on a tray and cover them with a damp cloth. If sealed in plastic, mushrooms will become slimy and mold quickly.
All Ingredients