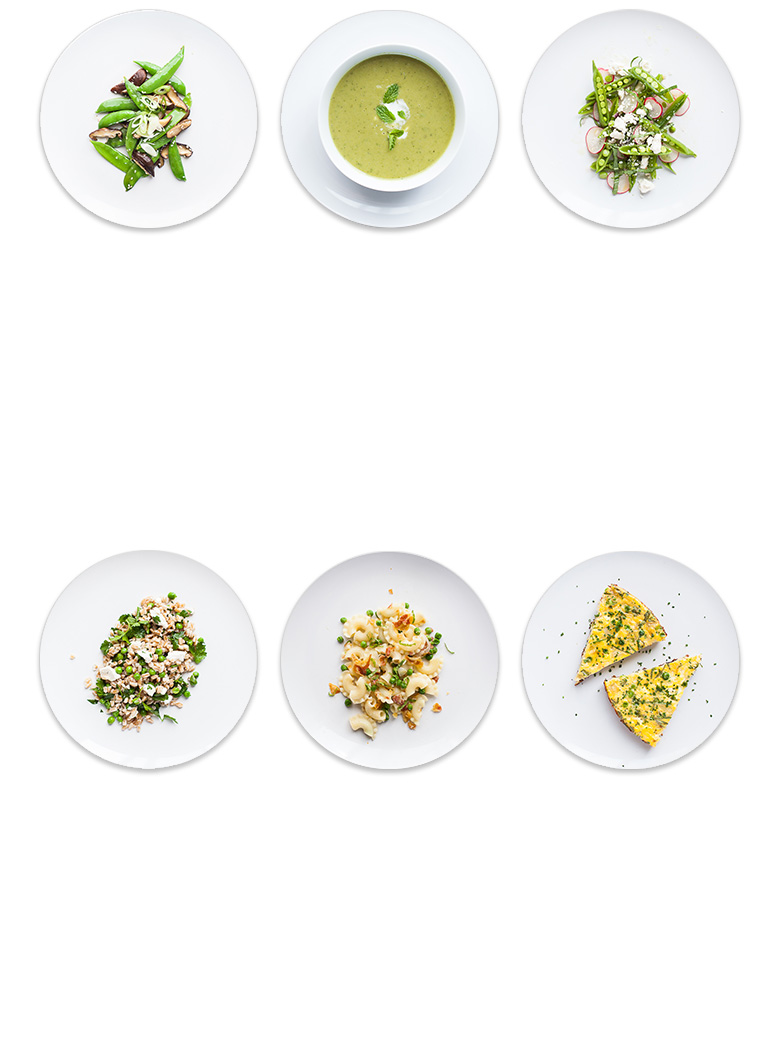 Stir-Fried Snow Peas, Sugar Snaps & Shiitakes
Sauté sliced stemmed shiitake mushrooms in vegetable oil until browned; transfer to bowl.
Warm more vegetable oil with sesame oil. Add snow peas and sugar snaps; stir-fry until crisp-tender.
Add mushrooms, grated ginger, minced garlic, sesame seeds, sliced green onions, salt and pepper; cook 1 minute.
Pea Soup with Mint
Sauté diced onion in olive oil until translucent. Add minced garlic; cook 1 minute.
Add English peas, chicken stock, salt and pepper; simmer 15 to 20 minutes.
Add minced mint and cream. Puree in blender.
Snap Pea Salad with Radishes & Feta
Whisk together lemon juice, lemon zest, minced shallot, olive oil, salt and pepper.
Toss julienned snap peas, thinly sliced radishes and julienned basil with vinaigrette.
Sprinkle with crumbled feta.
Farro Salad with Peas
Cook farro in boiling salted water until tender; let cool.
Whisk together sherry vinegar, minced garlic, walnut oil, salt and pepper.
Toss farro, blanched English peas, parsley leaves and crumbled ricotta salata with vinaigrette.
Pasta with Peas,
Pancetta & Mint
Cook pancetta in olive oil;
transfer to bowl.
Add sliced shallots and English peas to pan; cook until tender.
Add cooked and drained campanelle, pancetta and grated Parmesan; toss to combine. Stir in julienned mint, salt and pepper.
Frittata with Peas,
Ricotta & Herbs
Sauté diced onion in olive oil. Add minced garlic and English peas; cook until tender.
Whisk eggs, minced tarragon and chives, salt and pepper. Add to pan; dollop ricotta on top. Cook until eggs just start to set.
Transfer to 400°F oven; cook until set. Sprinkle with minced chives.

Availability
Fresh English shelling peas, snow peas and sugar snap peas are available early March-late May. They are at their best in early spring when the weather is still cool.
Selecting
English (shelling) pea pods should be bright green and feel heavy. Each 1 pound of whole pods yields about 1 cup of shelled peas. Choose snow peas that are light green and crisp and sugar snap peas that are a darker shade of green.
Preparing
For English peas, shell them just before cooking to prevent them from drying out. Work over a large bowl. After checking for and removing any strings as described above, squeeze the pod and press your thumb against the seam to split it open. Continuing the same movement, sweep your thumb down along the inside of the pod to pop out the peas. Discard the pod. Shell peas right before cooking them in order to keep them from drying out. Once shelled, peas can be briefly cooked in 1/4 inch of simmering water for 3 to 4 minutes. They will quickly turn soggy and lose their vibrant color, so it is important not to overcook them. Broad, flat snow peas and plump, bright green sugar snap peas can be eaten raw.
Storing
Because their natural sugar begins converting to starch immediately after they are picked, peas should be prepared and eaten as soon as possible, preferably the day of purchase. Peas will stay crisp for 3 to 4 days if stored in a plastic bag in the refrigerator, but do not expect them to retain their characteristic sweetness after a day. If needed, store English, snow and snap peas in an airtight container in the refrigerator for up to 3 days. If snow or snap peas begin to wilt, refresh them in cold water for 10 to 15 mintues.
All Ingredients