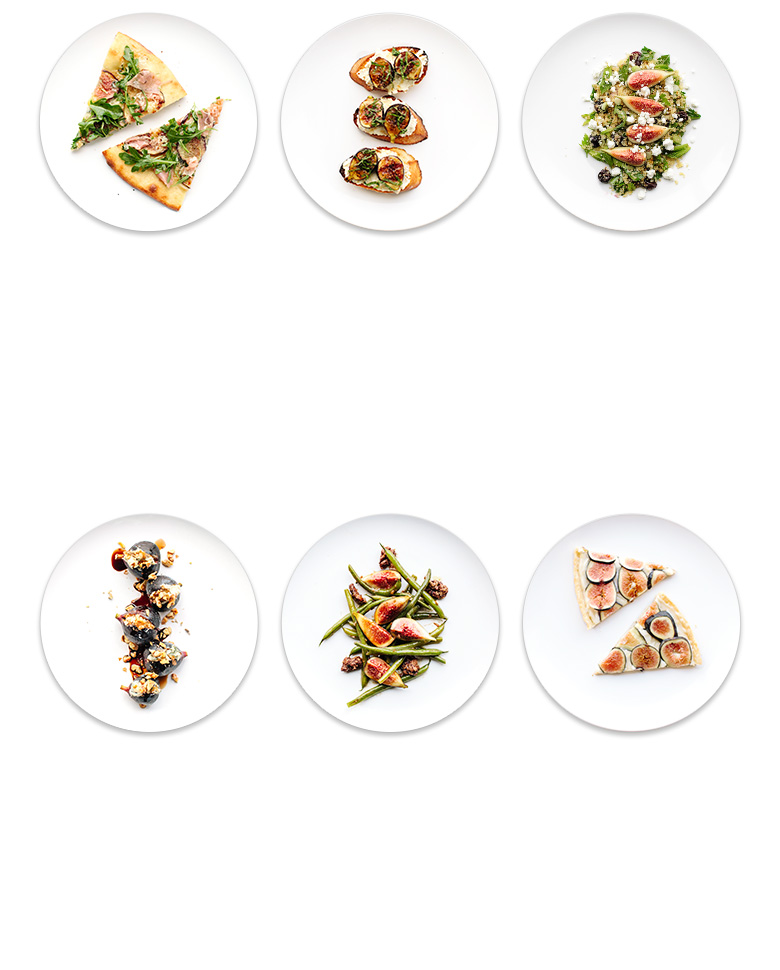 Fig Flatbread with Blue Cheese & Prosciutto
Roll out pizza dough and brush with olive oil. Top with sliced fresh figs and dot with blue cheese.
Bake in a 500°F oven until dough is crisp and cheese is melted. Top with thinly sliced prosciutto and arugula lightly dressed with olive oil, lemon juice, salt and pepper.
Grilled Fig & Ricotta Bruschetta
Stir together ricotta, honey and orange and lemon zest.
Skewer halved figs and brush with warmed honey. Grill until well marked all over.
Spread ricotta mixture on thick slices of grilled country bread. Top with grilled figs, drizzle with honey and garnish with slivered fresh mint.
Quinoa Salad with Figs & Goat Cheese
Whisk together honey, white balsamic vinegar, minced shallot, olive oil, salt and pepper.
Toss cooked and cooled quinoa with quartered fresh figs, dried cherries, sliced green onions, parsley, mint,
and vinaigrette. Finish with crumbled goat cheese.
Fresh Figs with Blue Cheese & Walnuts
Using a paring knife, cut a small slit in the side of fresh figs and stuff with crumbled blue cheese.
Arrange the figs on a bed of greens, drizzle with aged balsamic vinegar and sprinkle with toasted walnuts.
Fig & Green Bean Salad
Whisk together minced shallot, balsamic vinegar, lemon juice and Dijon mustard. Slowly whisk in olive oil and season with salt and pepper.
Toss blanched green beans or haricots verts with quartered figs and vinaigrette. Transfer to a serving dish and top with chopped candied pecans.
Fresh Fig Tart
Whisk together mascarpone, powdered sugar, lemon zest and juice, vanilla and a pinch of salt. Pour into a baked tart shell and spread evenly.
Arrange overlapping slices of
thinly sliced fresh figs on top. Finish with a drizzle of reduced port or wildflower honey.

Availability
Figs ripen during mid to late summer, with some varieties lingering for a second harvest in early fall.
Selecting
Figs can be purple, green, yellow, brown or white, and their flesh ranges from pale gold to deep, rich red. Choose figs that are soft to the touch but not wrinkled, mushy or bruised. Look for plump figs with firm stems and good color free of gray or tan spots. Figs with a webbing of delicate fissures, stretch marks revealing particularly moist and sweet fruit, are highly prized. A sour smell indicates an overripe fig that has begun to ferment.
Preparing
Rinse fresh figs under cold running water and gently pat dry before serving. Overhandling will bruise the delicate fruit. The peel is edible and, unless specified in a recipe, can be left on the fruit. Use a sharp paring knife to cut figs in half lengthwise. Fresh, ripe figs are best eaten out of hand but are also excellent served with cheese, grilled to accompany cured meats or savory salads, or paired with creamy desserts.
Storing
Fresh figs are extremely perishable and should be eaten as soon as possible after purchase. If need be, they can be refrigerated for 1 to 2 days, arranged in a single layer on a paper-towel-lined tray. They do not ripen if left at room temperature, but if they are a bit too firm, they will soften enough to eat in a day or so.
All Ingredients