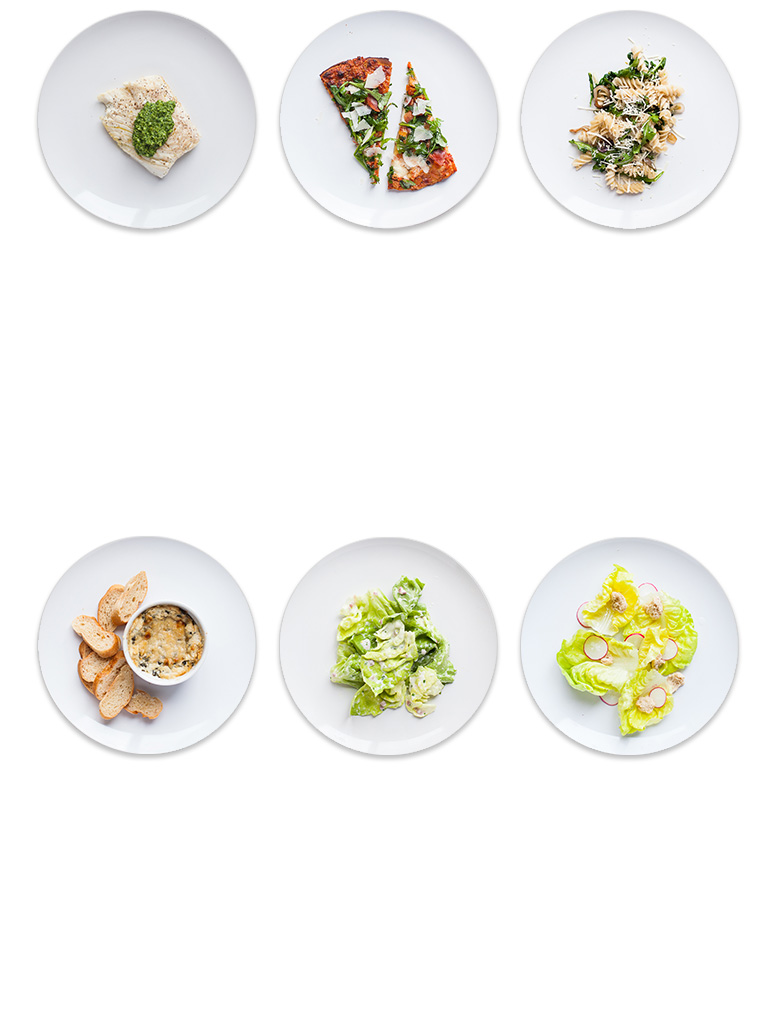 Arugula Pesto
In food processor, finely chop pine nuts and garlic clove. Add arugula; pulse until coarsely chopped.
With processor running, slowly add olive oil until smooth. Add lemon juice, grated Parmesan, salt and pepper; pulse until incorporated.
Serve over fish, chicken, steak
or lamb.
Pizza with Prosciutto
& Arugula
Brush pizza dough round with tomato sauce; top with shredded mozzarella and thin prosciutto strips.
Bake at 500°F on preheated baking stone until crust is crisp.
Toss arugula with olive oil, lemon juice and salt. Scatter over pizza along with shaved Parmesan.
Pasta with Arugula & Shallots
Sauté sliced shallots in olive oil until tender. Add minced garlic and lemon zest; sauté until fragrant.
Add arugula; cook until
just wilted.
Add cooked and drained pasta; toss with olive oil, salt and pepper. Sprinkle with grated pecorino romano.
Spinach Dip
Sauté spinach in olive oil. Squeeze dry; chop coarsely.
Combine spinach, sautéed onion, minced garlic, cream cheese, mayonnaise, grated Parmesan, red pepper flakes, salt and pepper.
Transfer to baking dish; sprinkle with grated Parmesan. Bake at 400°F until bubbly.
Butter Lettuce Salad with Buttermilk Dressing
Whisk together buttermilk, minced shallot, mayonnaise, lemon juice, Worcestershire sauce, chopped chives, salt and pepper.
Toss torn butter lettuce leaves
with dressing.
Little Gem Salad with Radishes
Whisk together sherry vinegar, honey, Dijon mustard, minced shallot, walnut oil, salt and pepper.
Toss Little Gem lettuce leaves, shaved radishes and croutons with vinaigrette.

Availability
Tender heads of Little Gem, Boston lettuce and loose-leaf spring mixes are available as early as February in some areas, with peak season lasting until early May.
Selecting
Look for fresh, crisp leaves free of blemishes, yellowed spots or tiny insect holes. Do not buy greens if they are wilted or dried out. Small, young leaves will have a milder flavor, and more and more greens are now available as tender "baby" leaves. Look for greens tied in bunches or washed, chopped and sealed in plastic bags. Baby greens are sold in bulk or in plastic bags.
Preparing
Immerse greens in a large bowl or sink filled with cool water. Discard any wilted or yellowed leaves. Gently lift out the greens and repeat the washing until the water is clear. A salad spinner is ideal for drying greens, but shaking them gently in a clean kitchen towel will also absorb excess moisture. Be sure to dry the greens as much as possible, especially if using them for salad, as excess water will dilute the dressing and prevent it from coating the leaves. If you have time, put the washed greens in the refrigerator to crisp.
Storing
Store greens unwashed in plastic bags. Although best if eaten the day of purchase, soft-leaved greens will keep for up to 4 days in a plastic bag in the crisper of the refrigerator.
All Ingredients