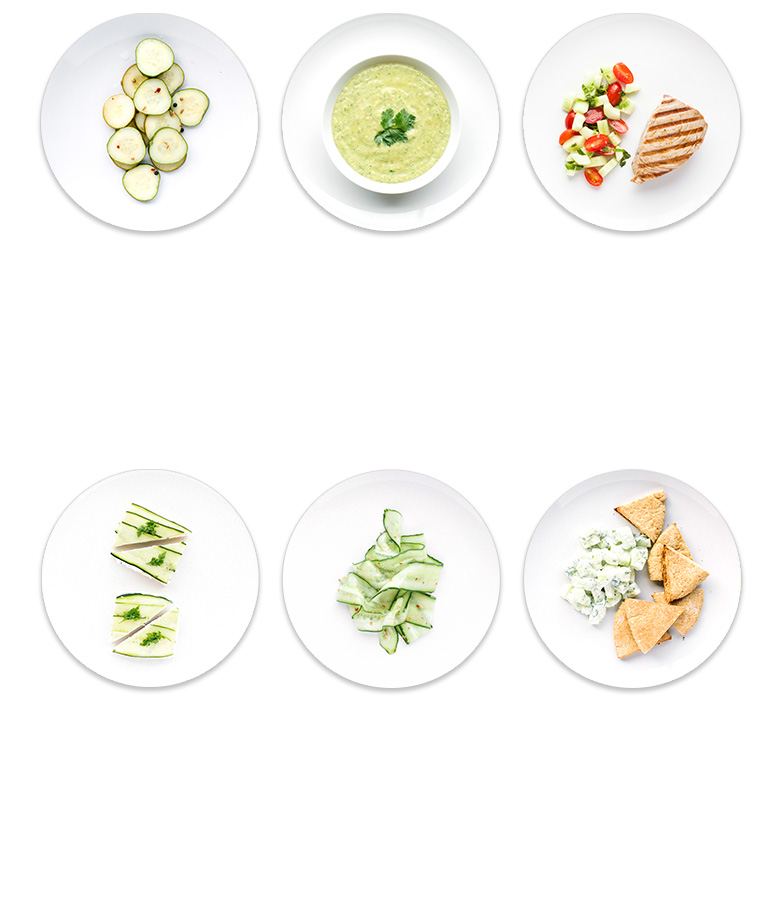 Quick Cucumber Pickles
Combine white vinegar with a generous spoonful of pickling spices, sugar (if desired) and salt and bring to a boil.
Pour mixture over sliced cucumbers. Let cool, then refrigerate up to 1 week.
Cucumber Gazpacho
In a blender, puree peeled and seeded English cucumber, garlic, red onion, avocado, olive oil, lime juice and cilantro.
Thin with vegetable stock as desired and season with salt
and pepper.
Cucumber, Tomato & Red Onion Salad
Whisk together minced garlic, chopped fresh mint, lemon juice, olive oil and salt.
Toss peeled, seeded and diced cucumber, halved cherry tomatoes and thinly sliced red onion with the dressing.
Cucumber Tea Sandwiches
Whip cream cheese with fresh dill and lemon juice. Spread on white or pumpernickel bread.
Using a mandoline, thinly slice cucumber lengthwise. Arrange
on cream cheese, cut sandwiches into triangles and garnish with
dill sprigs.
Asian Cucumber Salad
Using vegetable spiralizer with the straight blade or a mandoline, slice cucumbers lengthwise into thin ribbons.
Toss with rice vinegar, sesame oil, salt and toasted sesame seeds.
Tzatziki
Stir together peeled, seeded and diced cucumber with Greek yogurt, minced garlic, lemon juice and chopped fresh dill and mint.
Season with salt and serve with grilled pita.

Availability
Although many cucumber varieties are available all year round, they are at their sweetest and crunchiest during the summer months.
Selecting
When choosing slicing cucumbers (the type used in salads and other cold preparations), look for slender, dark green vegetables without yellowed or shriveled skins. Common garden varieties should be 8 to 10 inches long and 1 to 1 1/2 inches in diameter at the center. Many cucumbers are coated with wax, which makes them shiny and helps preserve them. Avoid these if you can, as waxed skin must be peeled, and with the skin goes the vitamin A. Hothouse cucumbers, also known as English cucumbers, are usually sold wrapped in plastic. They should be 12 to 16 inches long and have thin, smooth skin.
Preparing
Unless the skin is waxed, there is no need to peel cucumbers. Check for wax by scraping the cucumber with a fingernail. Pickling cucumbers should be scrubbed with a vegetable brush under cold running water to remove loose spines. Cucumbers may be seeded for stuffing or before slicing crosswise for a salad. To seed a cucumber, first slice the cucumber in half lengthwise. Use a melon baller or spoon to scoop out the seeds and the surrounding pulpy matter. Proceed with stuffing or place the cucumber flat side down on a cutting board and slice crosswise.
Storing
Store cucumbers in a perforated plastic bag in the refrigerator for up to 5 days. Do not put cucumbers in the coldest part of the refrigerator; they prefer temperatures just above 40°F (the temperature of most refrigerators). Sliced cucumbers will keep refrigerated in a covered container for 2 days.
All Ingredients