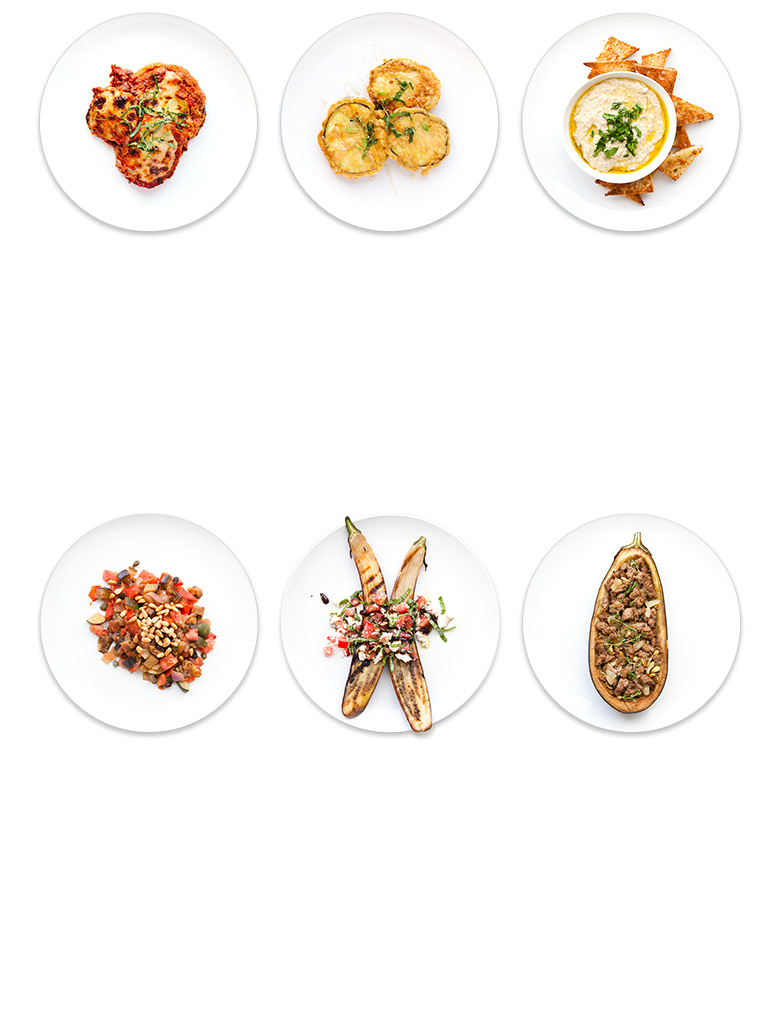 Eggplant Parmesan
Slice eggplant into 1/2-inch rounds and season with salt and pepper. Dredge in flour, then egg wash, then panko.
Panfry in olive oil until golden brown. Transfer to a baking dish.
Top with marinara and mozzarella. Broil until cheese is bubbling, then sprinkle with chopped fresh basil.
Eggplant Fritters with Mint & Honey
Slice eggplant into 1/4-inch rounds and season with salt and pepper.
Whisk together 1 cup flour, 1 tsp. baking powder and 1 tsp. salt. Whisk in 1 egg and 1/2 cup club soda.
Dip eggplant in batter and panfry in oil until golden. Drizzle with honey and sprinkle with slivered mint.
Baba Ghanoush
Prick a large eggplant with a fork.
Grill over medium-high heat until soft, then peel.
In a food processor, pulse eggplant with 2 minced garlic cloves, 1/4 tsp. cumin, 1/4 cup tahini, 1/4 cup lemon juice, salt and pepper. With motor running, drizzle in olive oil until smoothly pureed.
Served with toasted pita.
Caponata
Sauté diced onion, red bell pepper, zucchini and eggplant in olive oil until almost tender.
Add diced tomatoes, sugar, red wine vinegar, capers and raisins and simmer until vegetables are tender. Sprinkle with salt, pepper and toasted pine nuts.
Serve with crostini or on grilled meat or fish.
Grilled Eggplant with Ricotta Salata
Halve Asian eggplant lengthwise; brush with olive oil and season with salt and pepper.
Grill over medium-high heat, turning once, until tender.
While still warm, top with crumbled ricotta salata, diced tomatoes, chopped fresh basil, extra-virgin olive oil and reduced balsamic vinegar.
Lamb-Stuffed Eggplant
Halve Asian eggplant lengthwise; scoop out flesh, leaving a 1/4-inch layer. Place in a baking dish and drizzle with olive oil.
Sauté diced onion in olive oil; add minced garlic, cumin, cinnamon, ground lamb, toasted pine nuts, salt and pepper and cook until browned.
Fill eggplant with lamb mixture and bake at 400°F until soft.

Availability
Eggplants are at their best and most abundant in late summer.
Selecting
Choose smooth, firm, glossy-skinned eggplant with green caps and stems. Whether purple, white, green or another color, avoid any that are wrinkled, torn, bruised or scarred or that have brown, dried caps.
Preparing
Rinse the eggplants and then, using a large knife, trim the green top. If an eggplant is large with numerous seeds, or if the flesh looks dark and watery, extract the bitter juices by sprinkling salt on it after slicing and placing in a colander set in the sink for 30 minutes. Salting also prepares eggplant for deep-frying. Young eggplants or Asian varieties can be cooked without salting or peeling.
Storing
Store eggplants in a plastic bag in the refrigerator for up to 5 days.
All Ingredients