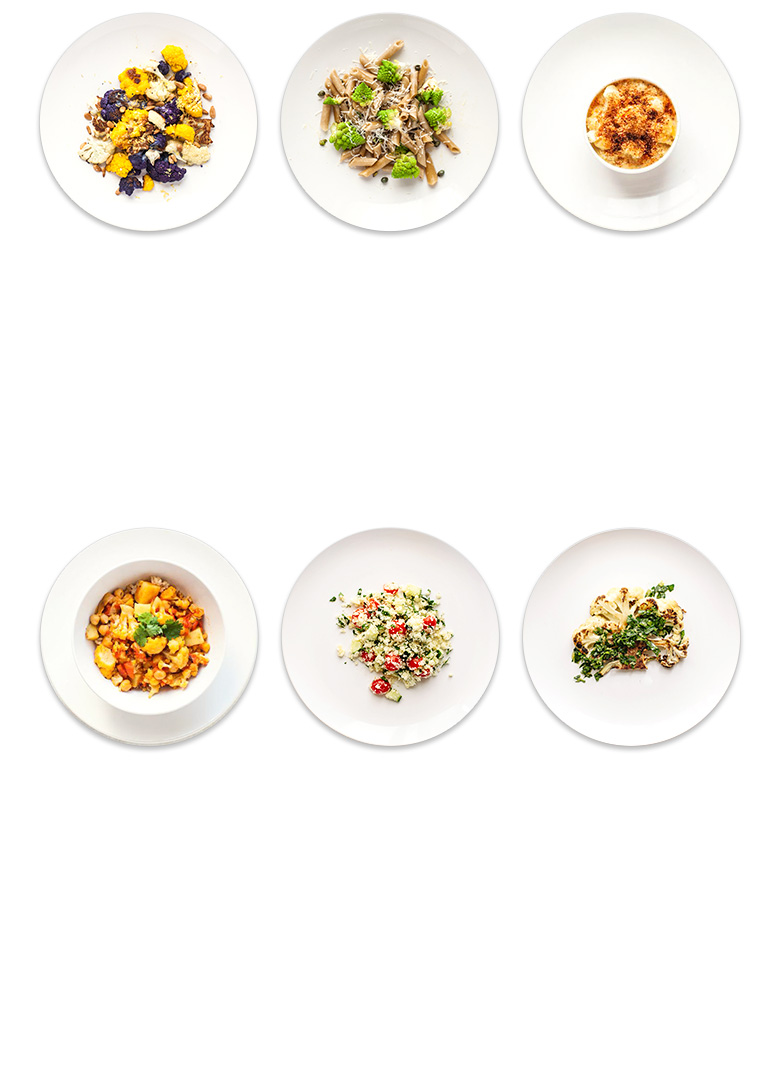 Roasted Cauliflower with Pine Nuts
Toss purple, orange and white cauliflower florets with olive oil, salt and pepper; spread evenly on a baking sheet.
Roast at 425°F, stirring occasionally, until just tender and caramelized, 12 to 15 minutes.
Sprinkle with toasted pine nuts and grated lemon zest.
Penne with Romanesco & Capers
Sauté diced onion and minced garlic in olive oil until softened.
Add romanesco florets, red pepper flakes and salt; cook until romanesco is just tender and lightly browned. Sprinkle with capers.
Toss with cooked and drained penne pasta; top with grated Parmesan.
Cauliflower Gratin
Steam cauliflower florets until just tender; drain well.
Toss cauliflower with béchamel sauce and shredded cheddar or Gruyère cheese. Transfer to a baking dish; sprinkle with bread crumbs.
Bake at 400°F until bubbling and golden brown, about 20 minutes.
Cauliflower Curry with Chickpeas & Potatoes
Sauté diced onion in olive oil until softened. Add minced garlic, minced ginger, curry powder and red pepper flakes. Cook until fragrant.
Add cauliflower florets, drained canned chickpeas, diced potato, canned diced tomatoes and vegetable stock. Simmer until tender.
Spoon over steamed rice and sprinkle with cilantro.
Cauliflower "Tabbouleh"
Pulse cauliflower florets in a food processor until pieces resemble grains of rice.
Transfer to a bowl. Fold in chopped parsley, diced cucumber and diced tomatoes.
Whisk together minced garlic, lemon juice, olive oil, and salt and pepper. Pour over vegetable mixture and stir to combine.
Cauliflower Steaks
Stir together minced parsley, minced garlic and grated lemon zest.
Cut cauliflower through stem end into planks 1/2 inch thick. Drizzle with olive oil and season with salt and pepper. In a nonstick pan, sear, turning once, until well browned.
Transfer to a foil-lined baking sheet and roast at 450°F until tender. Sprinkle with gremolata.

Availability
Although available all year round, cauliflower is at its best in late fall and winter.
Selecting
Look for firm, tight heads without bruises or brown spots, with evenly colored ivory or cream florets. A few varieties of cauliflower have a green or purple tinge, which is natural and does not change the taste. If any leaves remain, they should be green and fresh looking. Avoid cauliflower with loosely packed or spreading florets. It is acceptable if a few green shoots are showing among the florets, or if the florets look a little grainy or bristly.
Preparing
Remove any leaves from the stem end of the head, separate the head into florets and rinse under cold running water. Trim off any brown spots. Cauliflower can be cooked whole as well and the florets separated after cooking. Steam or boil cauliflower until tender and toss with a little butter or lemon juice, or combine with other vegetables, before serving. Adding a few drops of lemon juice or a little milk to the cooking water helps cauliflower retain its creamy white color. As with cabbage, there is no way to prevent an odor from emanating from the cauliflower during cooking. Cut cauliflower into small florets, cook them quickly, and turn on exhaust fans and open windows to disperse any odor.
Storing
Store cauliflower in a loose, perforated plastic bag in the refrigerator for up to 1 week. If you do not use the entire head, plan to eat the remaining florets within a day. Or, you may freeze them, first blanching them in lightly salted water for about 3 minutes, draining, and then putting them in rigid containers or plastic bags in the freezer for up to 1 year. Once cooked, cauliflower keeps for only 1 or 2 days in the refrigerator.
All Ingredients