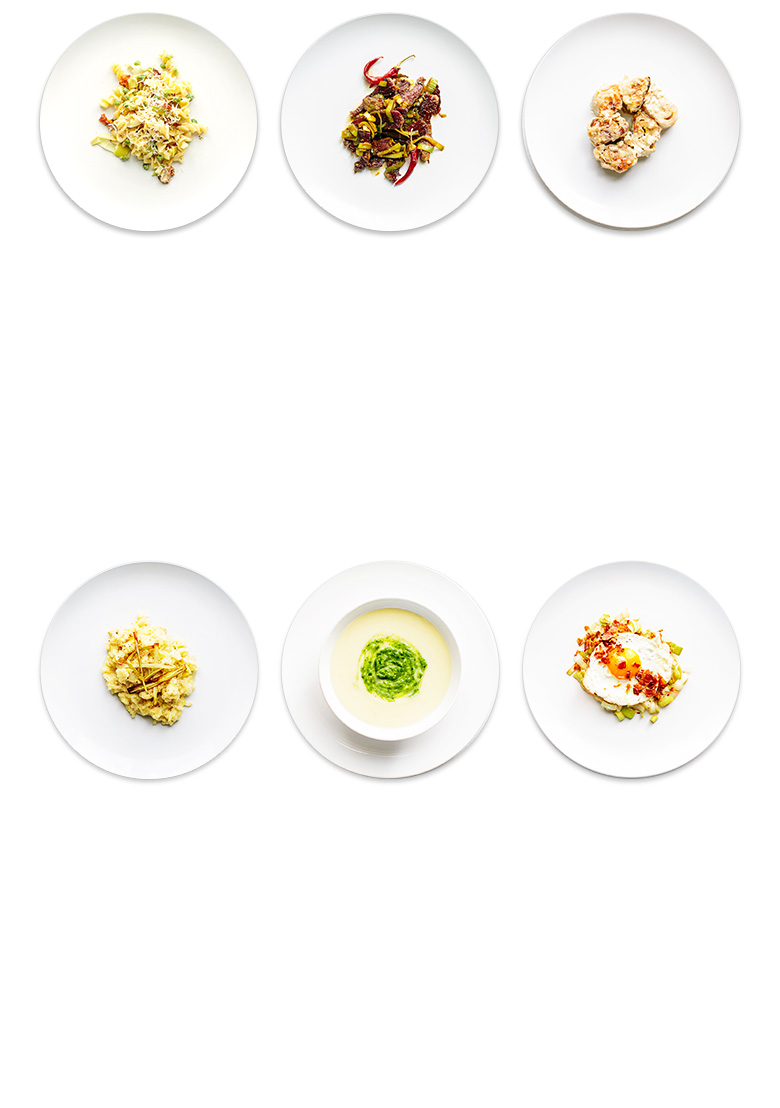 Pasta with Leeks & Peas
Dice bacon into batons 1/4 inch thick. Sauté in olive oil until browned. Add thinly sliced leeks and minced garlic and cook until leeks are tender.
Add cream, shelled peas, and cooked and drained pasta to the pan. Cook, tossing, until the cream has reduced and coats the pasta. Season with salt and pepper and top with shaved pecorino cheese.
Beef & Leek Stir-Fry
Stir together stock, soy sauce, rice vinegar, garlic, ginger, sugar and cornstarch.
Sear thinly sliced flank steak until
well browned. Transfer to a bowl. Add sliced green parts of leeks and 10 Chinese dried red chiles. Cook until leeks are crisp-tender.
Return steak to pan. Add stock mixture and cook, tossing, until liquid has thickened.
Gratinéed Leeks in Cream
Cut leeks crosswise into rounds about 1 inch thick. Arrange in a single layer in a baking dish. Season with salt and pepper, and cover with cream and grated Parmesan.
Cover with aluminum foil and bake at 400ºF for 30 minutes. Remove the foil and continue cooking until the cream has reduced, the leeks are tender and their tops are golden brown.
Leek Risotto
Sauté sliced leeks in butter until tender. Add Arborio rice and cook, stirring, until lightly toasted. Deglaze pan with white wine. Bring to a simmer, stirring in warm stock as needed, until the rice is tender.
Meanwhile, fry julienned leaks in oil until golden brown.
Season risotto with salt and pepper, stir in butter and grated Parmesan, and top with fried leeks.
Vichyssoise
Sauté thinly sliced leeks and minced garlic in butter until tender. Add peeled, diced russet potatoes and stock to cover. Simmer until potatoes are cooked through.
Puree soup until smooth, season with salt and pepper, and stir in cream.
Puree canola oil with a bunch of chives and a handful of parsley leaves until smooth. Drizzle over soup before serving.
Fried Egg with Leeks & Pancetta
Dice pancetta into 1/4-inch cubes and sauté in olive oil until browned and crispy. Drain on paper towels and set aside.
Add thinly sliced leeks to the same pan and cook until tender. Season with salt and pepper, and stir in butter to finish.
Spoon leeks onto a plate, top with a fried egg and sprinkle with pancetta.
Availability
Leeks are at their best in the cold winter months.
Selecting
Choose smaller leeks with dark green leaves that are crisp, firm and free of blemishes. Check to make sure that the roots are light in color and still pliable. Avoid darkened, dried roots and wrinkled, wilted leaves.
Preparing
Leeks can serve as a component of mirepoix, a classic French seasoning mixture; meld with other ingredients such as potatoes in standard preparations like vichyssoise; or star in a gratin or quiche. Raw leeks can also be sliced and added to salads. Because leeks grow partly underground, grit is often lodged between the layers of their leaves. Wash them thoroughly before cooking as follows: Trim off the roots and the tough, dark green tops of the leaves. If the outer layer is wilted or discolored, peel it away and discard. Quarter or halve the stalk lengthwise. If using the leek whole, leave the root end intact. Rinse the leek well under cold running water, separating the layers and rubbing the leaves to remove any silt between them. If a recipe calls for sliced leeks, slice the white and lighter green parts crosswise.
Storing
Keep leeks in a plastic bag in the refrigerator for up to 5 days.
All Ingredients