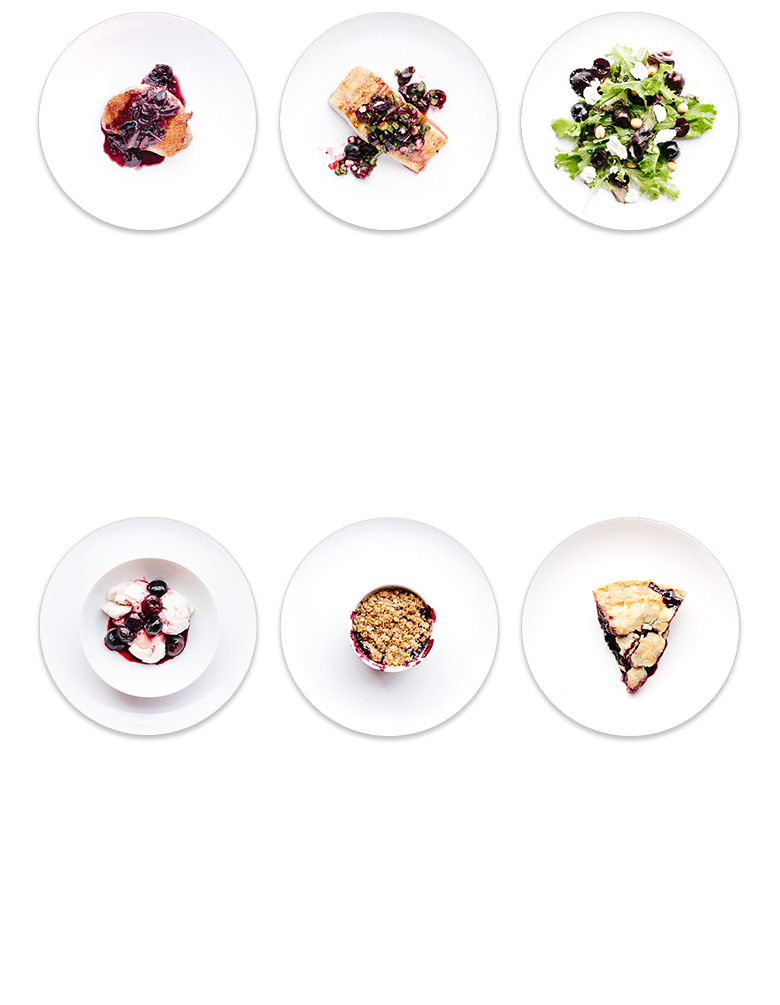 Seared Duck Breast with Cherry-Port Sauce
Season duck breast with salt and pepper. Cook, skin side down, in sauté pan until crisp. Transfer to rack-lined baking sheet. Roast at 375°F until medium-rare.
Cook minced shallot in sauté pan until tender. Deglaze with port; add chicken stock and pitted cherries. Cook until thickened; whisk in butter. Spoon over duck.
Grilled Mahi Mahi with Cherry Salsa
Season mahi mahi fillets with salt, cayenne and lime juice. Grill over high heat until cooked through.
Combine pitted cherries, diced jalapeño, chopped shallots, sliced green onions, chopped cilantro, lime juice and salt. Serve salsa over mahi mahi.
Cherry & Goat Cheese Salad with Hazelnuts
Whisk together minced shallots, sherry vinegar, hazelnut oil, salt and pepper.
Toss mixed greens and pitted sour cherries with vinaigrette.
Top salad with crumbled goat cheese and toasted hazelnuts.
Cherries Jubilee
In sauté pan, toss pitted cherries with sugar, lemon juice and lemon zest. Cook until slightly softened and juices release.
Remove from heat, add a splash of brandy and flambé; cook until flame goes out. Serve immediately over vanilla ice cream.
Individual Cherry Crisps
Combine pitted cherries, sugar, lemon juice and cornstarch; divide among ramekins. Top with streusel (brown sugar, flour, oats and butter combined until clumpy).
Bake at 375°F until filling is bubbly and streusel is browned.
Cherry Pie
Combine 2 lb. pitted cherries, 1 cup sugar and 1/4 cup cornstarch; transfer to prepared pie shell in 9-inch pie pan. Top with pie dough round; flute edges. Brush with egg wash.
Bake at 425°F for 20 minutes. Reduce oven to 350°F; bake 55 to 60 minutes more. Cool 1 hour before serving.

Availability
Cherries have a short
season, appearing in the market in May and lasting through July.
Selecting
When buying sweet cherries, make sure they are large, plump, smooth and dark colored for their variety (golden cherries, such as Royal Anns, are meant to be pale) and have firm stems. The darker the cherry, the sweeter its flavor. Avoid any that are pale colored (again, for their variety) and rock hard, which indicates immature fruit, or those that are wet, sticky, bruised, excessively soft or have shriveled stems; all are signs of age. Cherries with the stems attached are desirable; once the stem is removed, the cherries spoil more rapidly. A pound of fresh cherries can replace a 1-pound can of sour cherries. Once they have been pitted, fresh cherries will yield the same 2 cups that the can holds.
Preparing
If using fresh cherries in pies or other baked dishes, pit the fruit with a cherry pitter or small, sharp knife. Operating like a hole punch, a cherry pitter makes fast work of an otherwise tedious task. Simply place a stemmed cherry in the pitter and then squeeze the handle. The tool pokes out the pit while leaving the fruit whole.

If the recipe calls for canned sour cherries and you wish to use fresh sweet cherries, reduce the amount of sugar and add a little lemon juice to taste. This works very well for cherry pie, cherry sauce for ice cream or cherry topping for cheesecake.
Storing
Put fresh cherries in a
plastic bag and refrigerate immediately. Eat them within 3 days.
All Ingredients