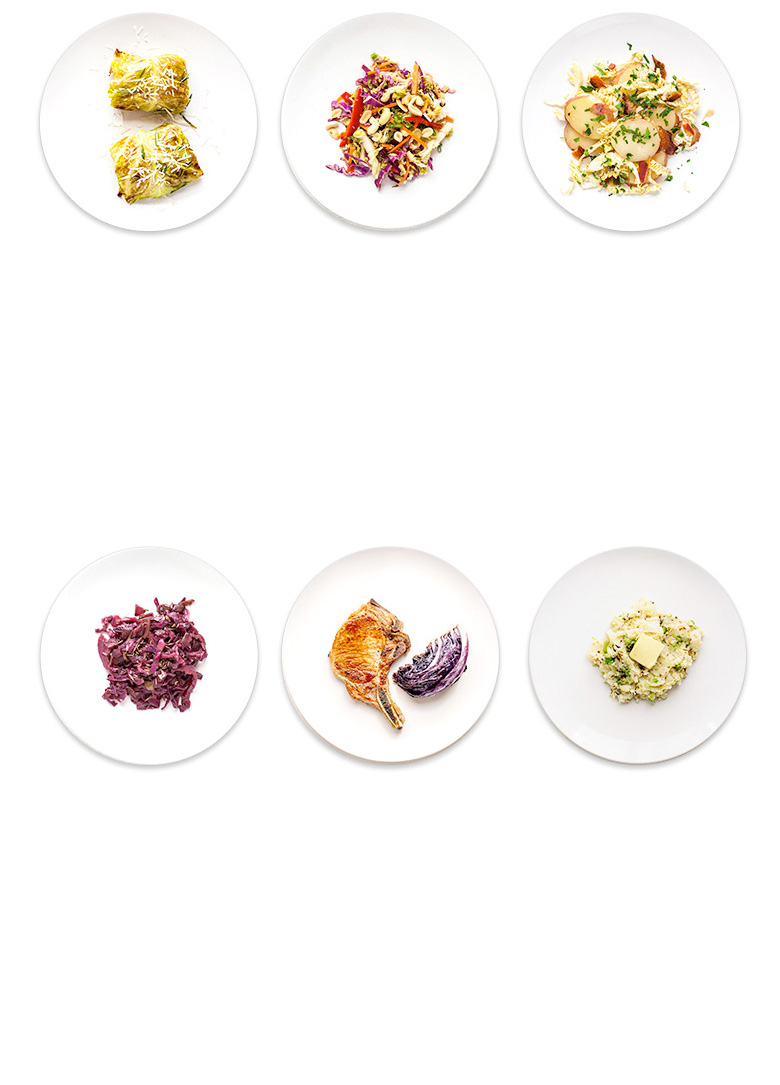 Stuffed Savoy Cabbage
Blanch 12 large leaves from 2 savoy cabbages. Shred remaining cabbage.
Sauté diced bacon and onion. Add minced garlic, thyme and shredded cabbage; cook until wilted. Add 2 cups fresh bread crumbs, 2 beaten eggs, salt and pepper.
Stuff cabbage leaves with filling. Place in buttered baking dish; add chicken broth. Cover and bake at 350°F for 30 minutes. Drizzle with brown butter.
Asian Cabbage Slaw
Combine thinly sliced napa and red cabbage with julienned red bell peppers, chopped green onions and julienned carrots.
Whisk together creamy peanut butter, sesame oil, rice wine vinegar, soy sauce, minced ginger and honey; thin with water if needed.
Drizzle dressing over cabbage mixture and toss to combine. Top with chopped toasted peanuts.
Warm Potato, Bacon & Cabbage Salad
Cook red potatoes in boiling salted water until tender; drain and let cool slightly, then slice into rounds.
Fry chopped bacon until crisp; drain on paper towels. Whisk olive oil and sherry vinegar into pan drippings; heat gently.
Toss potatoes with thinly sliced savoy cabbage, bacon and warm vinaigrette. Sprinkle with chopped parsley or chives.
Braised Red Cabbage with Apples
Sauté thinly sliced onion in olive oil until softened.
Add 1 thinly sliced Granny Smith apple, caraway seeds, cider vinegar, honey, red wine, water, salt and pepper. Bring to a boil; reduce mixture slightly.
Add 1 shredded red cabbage. Cover; cook, stirring occasionally, until cabbage just begins to wilt. Uncover and cook until cabbage is tender.
Roasted Cabbage Wedges
Cut cabbage in half, then cut each half into 6 wedges, leaving the core as intact as possible.
Drizzle liberally with olive oil and season with salt and pepper.
Place on a foil-lined baking sheet and roast at 425°F until tender and edges are browned. Serve alongside pork chops.
Colcannon
Peel russet potatoes and cut into large chunks. Boil in salted water until tender, then drain. Mash with a potato masher or press through a ricer. Keep warm.
Sauté thinly sliced cabbage in olive oil until tender.
Add cabbage to potatoes along with hot heavy cream, butter, salt and pepper. Stir to combine.

Availability
Although cabbage is sold fresh year-round, this vegetable is at its best during the cold autumn and winter months.
Selecting
Buy firm, heavy heads of green, red and savoy cabbage with closely furled leaves. An average head weighs about 2 pounds. Color is an indication of freshness. For example, green cabbages stored for too long lose pigment and look almost white. To ensure freshness, check the stem ends of cabbage heads to make sure the stem has not cracked around the base, which indicates undesirably lengthy storage. Chinese cabbage leaves should be crisp, unblemished and pale green with tinges of yellow and white.
Preparing
Pull off and discard any wilted outer leaves and cut the core from the head, either by cutting the head in half or quarters and slicing the core from the center, or by cutting around the core from the base. Shred or slice cabbage for salads (a food processor makes quick work of the task). Nothing combats the odor of cooking cabbage, despite old wives' tales about dropping a whole walnut or a chunk of bread into the cooking pot. Cooking it quickly helps, but a kitchen exhaust fan is the best defense.
Storing
Refrigerate heads of green and red cabbage for up to 2 weeks; savoy and Chinese cabbage for 5 or 6 days. If you want to eat the cabbage raw, do so within 3 or 4 days. Do not cut or shred cabbage until you are ready to use it. Store the unused portion intact, wrapped in plastic, and use within 2 days.
All Ingredients