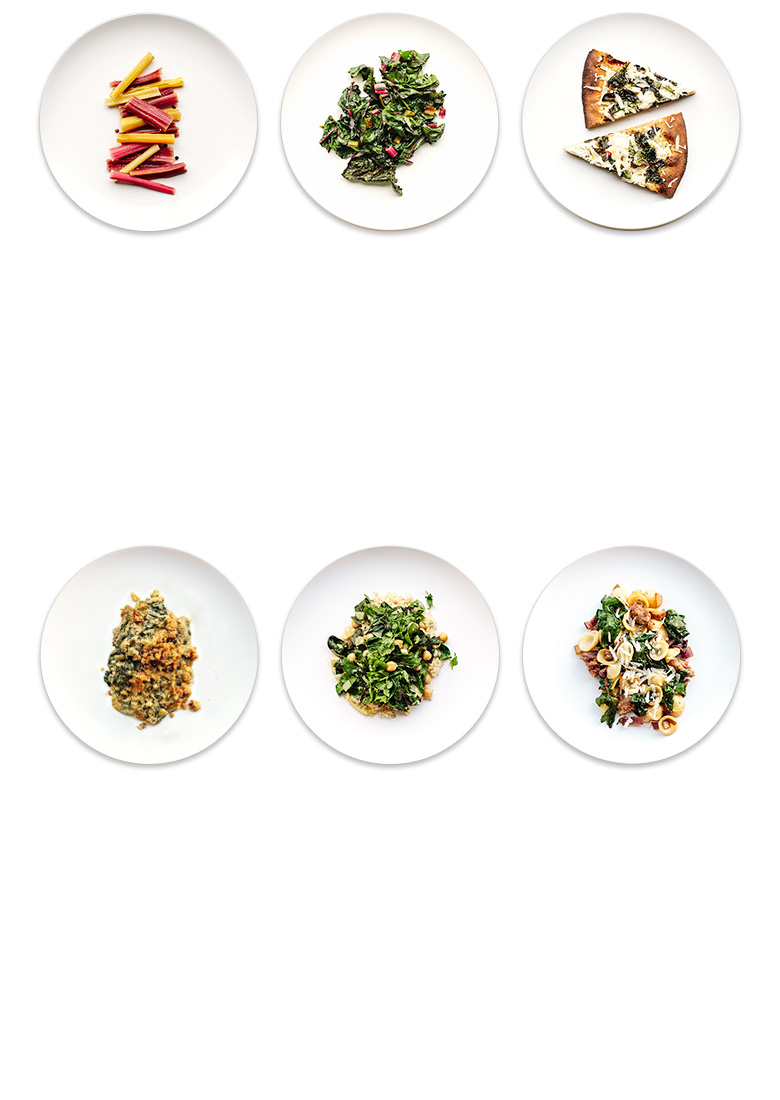 Pickled Chard stems
Cut stems from 2 bunches of rainbow chard into 3-inch batons and place in a glass bowl.
Combine 1 cup rice vinegar, 1/2 cup water, 2 Tbs. sugar, 1 Tbs. kosher salt and 1/2 tsp. each peppercorns, brown mustard seeds, coriander seeds and dill seeds. Bring to a boil, pour over chard stems and let cool, stirring occasionally.
Cover and refrigerate up to 2 weeks.
Sautéed Chard with Red Pepper Flakes
Remove stems from 1 bunch of chard and cut leaves into 1-inch strips.
Sauté minced garlic, grated lemon zest and red pepper flakes in olive oil over medium heat until fragrant. Increase heat to medium-high, add chard leaves and cook, tossing occasionally until wilted.
Season with salt and pepper and finish with a squeeze of lemon juice and a drizzle of olive oil.
Chard and Ricotta Pizza
Sauté chopped chard leaves from 1 bunch of chard in olive oil until wilted. Set aside.
Roll out prepared pizza dough and top with a thin layer of roasted garlic puree. Top with dollops of fresh ricotta and the chard.
Bake in a 500°F oven until dough is crisp. Finish with freshly grated Parmigiano-Reggiano.
Chard Gratin
Sauté chopped leaves from 1 bunch of chard leaves until wilted. Set aside. In same pan, sauté minced garlic and shallots and diced chard stems in butter until tender. Add 2 Tbs. flour and stir for 2 minutes. Whisk in heavy cream and cook until thickened.
Fold in chard leaves and grated Gruyère; season with salt and pepper. Transfer to a baking dish, sprinkle with bread crumbs and dot with butter. Bake at 400°F until bubbling.
Green Curry with Chickpeas and Chard
Sauté minced garlic and ginger, serrano chiles and thinly sliced onion in oil until softened. Add Thai green curry paste and stir until fragrant.
Add unsweetened coconut milk, chicken or vegetable stock, and 1 can drained and rinsed chickpeas. Simmer until flavors are melded, about 20 minutes. Stir in 1-inch strips of chard until slightly wilted. Serve over steamed rice sprinkled with fresh cilantro.
Pasta with Sausage and Chard
Sauté diced onion, minced garlic and diced chard stems in olive oil. Stir in torn chard leaves, slices of browned sausage and red pepper flakes. Sauté until the chard is wilted. Season with salt and pepper.
Meanwhile, cook orecchiette pasta until al dente and drain.
Add chard mixture to pasta and toss until warmed through. Sprinkle with grated Parmigiano-Reggiano before serving.

Availability
Chard is available at local farmers' markets during the autumn and winter.
Selecting
Swiss chard, also known simply as chard, has large crinkled leaves on fleshy ribbed stems. Depending on the variety, the stems and ribs can be scarlet red, golden yellow or pearly white. Red chard, sometimes labeled ruby chard, has a slightly earthier flavor, while chard with white stems tends to be sweeter. In chard bunches, look for dark green color and crisp, large, spreading leaves. Leaf shape and size will vary by type. Avoid any bunches that have brown or yellow leaves, or ribs that are dry or wilted enough to bend.
Preparing
Wash chard as you would spinach: fill a large bowl with cold water, immerse the leaves, and then lift them out, letting the grit settle at the bottom. Repeat with fresh water until completely free of grit. Spin dry in a salad spinner. If the stems are fibrous, use a paring knife to cut them away, along with the tough vein that runs along the center of each leaf. Discard the veins. Cook the stems separately from the leaves, as they will take longer to become tender. Sautéed or simmered, stem pieces will take 5 to 10 minutes to cook.
Storing
Store in a plastic bag in the refrigerator for up to 5 days.
All Ingredients