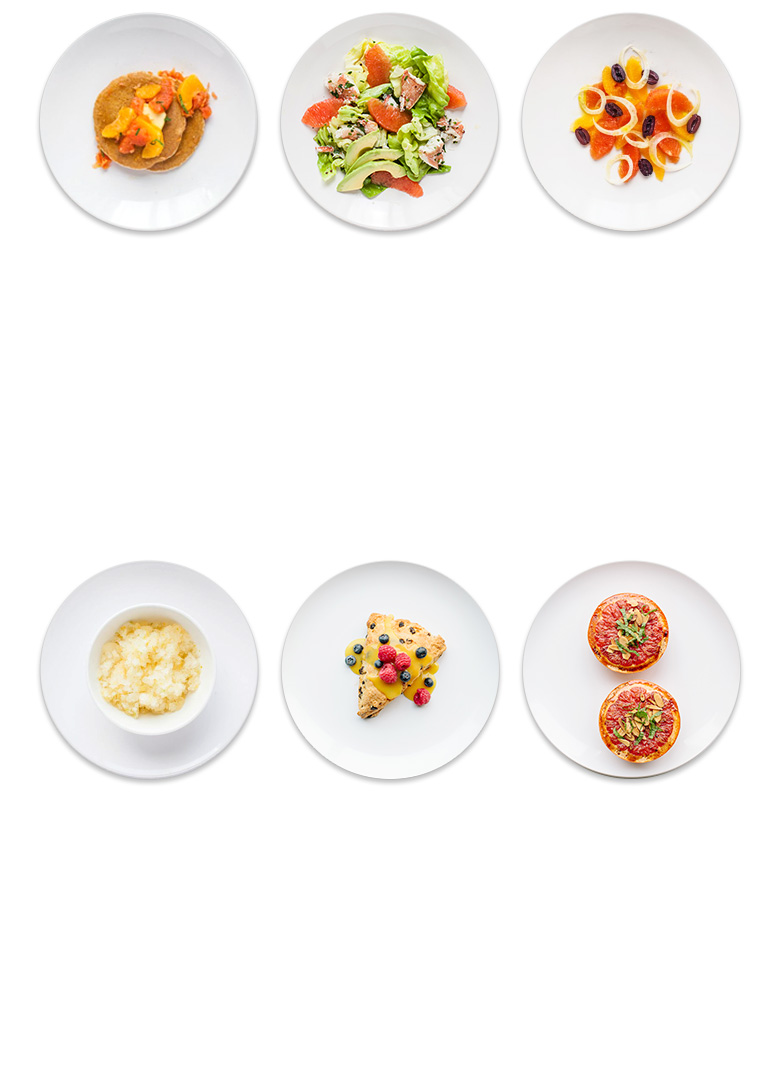 Citrus Compote
Peel oranges, grapefruit and tangerines; cut into segments, reserving juice. Place segments in a bowl.
In a saucepan, heat juice and sugar to taste until sugar is dissolved. Let syrup cool, then stir into citrus segments. Sprinkle with slivered mint or basil.
Serve over pancakes, waffles or pound cake.
Crab Salad with Grapefruit & Avocado
Whisk together grapefruit juice, Champagne vinegar, olive oil, salt and pepper.
Toss torn butter lettuce with some of the vinaigrette; divide among plates. Top with fresh crabmeat, grapefruit segments and thinly sliced avocado.
Drizzle with remaining vinaigrette; sprinkle with snipped chives and finely chopped parsley.
Citrus Salad with Shaved Fennel
Peel oranges, blood oranges and grapefruit; cut into segments. Arrange on a plate.
Thinly shave a fennel bulb and arrange on top of citrus. Sprinkle with pitted niçoise olives.
Drizzle salad with extra-virgin olive oil; sprinkle lightly with sea salt and pepper.
Citrus Granita
In a saucepan, heat equal parts sugar and water; let cool completely.
Mix 2 parts syrup with 2 parts mixed fresh citrus juices. Adjust sweetness as necessary.
Pour mixture into a shallow pan; place in freezer. Scrape with a fork every 30 to 60 minutes until frozen solid, about 2 1/2 hours.
Lime Curd
In a small saucepan, whisk together 5 egg yolks and 1/2 cup sugar. Whisk in 1/2 cup fresh lime juice and stir over medium-low heat until thickened slightly.
Remove from heat and gradually whisk in 6 Tbs. cubed unsalted butter. Strain and let cool.
Serve with scones or assorted berries.
Broiled Grapefruit
Preheat a broiler. Cut grapefruit in half crosswise. Cut a thin slice from the bottom of each half.
On a baking sheet, sprinkle grapefruit with brown sugar and cinnamon. Dot with butter and broil until golden and bubbly.
Sprinkle with finely chopped toasted almonds and slivered mint.

Availability
Citrus fruits are at their sweetest and freshest during the colder winter months in the mild climates where they are grown.
Selecting
Choose citrus that feels heavy for its size and is free from soft spots. Citrus with smooth, glossy rinds offer the most juice, while fruits with thick skin will more easily yield generous amounts of zest.
Preparing
Use citrus juice and zest to brighten soups, finish sauces, marinate meats, garnish vegetables and enhance drinks, as well as to flavor baked goods. For the most juice, bring citrus to room temperature and roll it firmly against a hard surface. Then use a citrus reamer to extract the juice. A rasp grater is best for obtaining fine, aromatic shreds of citrus rind free of any pith. A vegetable peeler is useful for creating wide ribbons of zest. Use a sharp knife to cut the fruit into slices or wedges.
Storing
Store citrus in a basket at room temperature for up to 1 week, or refrigerate in a plastic bag for up to 1 month. Citrus juice can be frozen for up to 6 months.
All Ingredients