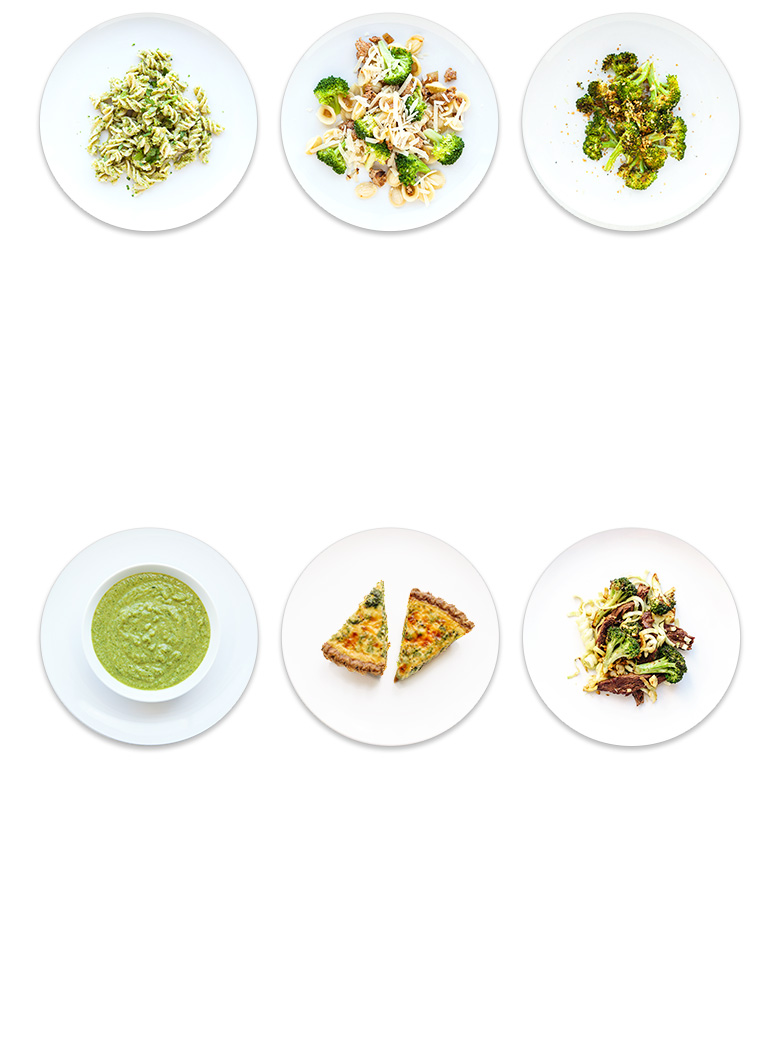 Broccoli Pesto
In a food processor, combine blanched broccoli florets, parsley, basil, toasted pine nuts and grated Parmesan; pulse a few times.
Add olive oil and pulse until smooth. Thin with a little water if desired; season with salt and pepper.
Toss pesto with drained cooked pasta.
Orecchiette with Broccoli & Sausage
Sauté diced onion and minced garlic in olive oil.
Add crumbled Italian sausage and a pinch of red pepper flakes; cook until sausage is browned, 4 to 5 minutes. Add steamed broccoli florets.
Toss with cooked and drained orecchiette pasta; serve with plenty of grated Parmesan.
Roasted Broccoli with Crispy Panko
Toss broccoli florets with olive oil, salt and pepper; spread on a baking sheet. Roast at 450°F, stirring once, until just tender, 12 to 15 minutes.
Sauté panko in olive oil until crispy and lightly browned.
Toss broccoli with panko and grated lemon zest.
Quick Broccoli Soup
Sauté diced onion and minced garlic in olive oil until softened. Add broccoli and chicken stock; cook until broccoli is tender.
Let cool slightly, then carefully puree in a blender.
Season generously with salt and pepper; top with shredded cheddar if desired.
Broccoli Quiche
Blanch broccoli florets in boiling water until crisp-tender. Drain.
Whisk together 4 eggs, 1 3/4 cups half-and-half, 1/4 tsp. nutmeg and 1/2 tsp. salt. Stir in broccoli and 1 1/2 cups shredded cheddar cheese.
Pour mixture into a prebaked piecrust and bake at 425°F until set, 30 to 35 minutes.
Stir-Fry with Broccoli Noodles
Stir together stock, soy sauce, rice vinegar, garlic, sugar and cornstarch.
Using a spiralizer, cut peeled broccoli stalks into "noodles."
Stir-fry "noodles," florets, and sliced flank steak separately, removing each to a bowl when done.
Return steak and broccoli to pan. Add stock mixture and cook, tossing, until liquid is thickened.

Availability
Although it is available year-round, fresh broccoli is at its best from the fall through the spring and usually is inexpensive.
Selecting
Buy heads with tightly clustered dark green or purplish florets and with no signs of yellowing or flowering. Stalks should be firm and fresh looking with healthy green leaves. Do not buy broccoli with tough or woody stems. The stalks of young, tender broccoli are slender, while those of older broccoli are thick and have hollow cores. Frozen broccoli is also readily available. Many markets sell only the florets, fresh or frozen, and these can be convenient for a quick weeknight dinner.
Preparing
Trim the leaves on the broccoli stalk only if they appear discolored or unhealthy, and cut away any tough portions on the bottoms of the stalks. If the stalk seems tough, peel it with a vegetable peeler or paring knife. Cut the broccoli lengthwise into manageable spears, usually about 3 inches long. Both the stalks and florets can be precooked by blanching or parboiling, particularly if you will be stir-frying or sautéing the vegetable. Florets cook more quickly than stalks, so split the stalks lengthwise only to the flower heads to cook them intact. Broccoli that is cooked until soft does not reheat well, but broccoli cooked until crisp-tender can be reheated.
Storing
Refrigerate broccoli as soon as you get it home. It will keep for 5 days in a perforated plastic bag. To freeze broccoli, trim the leaves and peel the stalks if they look a little woody. Cut the stalks and florets into small strips 1 to 3 inches long. Blanch the broccoli for about 5 minutes, plunge into cold water, drain and freeze in freezer bags. Frozen broccoli keeps for about 1 year.
All Ingredients