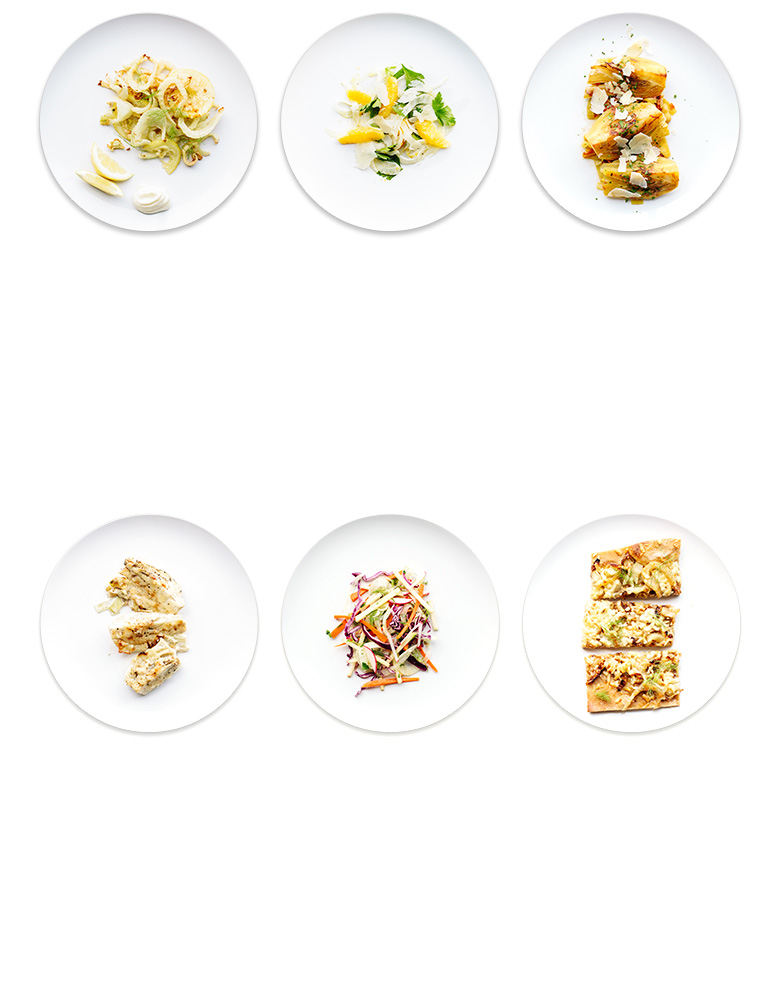 Fennel Fritto Misto
Season flour with salt, pepper, cayenne and a large pinch of cornstarch.
Toss thinly sliced fennel and lemon wheels in the flour and fry until golden. Top with fennel fronds and serve with lemon wedges and aioli.
Shaved Fennel Salad
Whisk together orange juice, orange zest, lemon juice, a pinch of sugar, extra-virgin olive oil, salt and pepper.
Toss shaved fennel with segmented oranges, parsley leaves and vinaigrette. Top with shaved parmesan.
Braised Fennel
Sear quartered fennel until well browned. Set aside.
Sauté garlic and thinly sliced leeks with a pinch of saffron until tender. Return fennel to pan and add drained white beans, drained canned tomatoes, stock and simmer until fennel is tender.
Finish with lemon juice, chopped herbs and shaved parmesan.
Fennel Gratin
Place quartered and cored fennel in a buttered baking dish. Season with salt and pepper, and top with sautéed leeks, cream and grated parmesan.
Bake in a 375°F oven until fennel is tender and top is golden and bubbly.
Fennel Slaw
Whisk together apple cider vinegar, lemon juice, sugar, chopped fennel fronds, chopped parsley, olive oil, salt and pepper.
In a large bowl, toss together shaved fennel, shredded purple cabbage and julienned carrots, apples and radishes. Add vinaigrette and toss until well combined.
Flatbread with Caramelized Fennel
Roll out pizza dough and top with a thin layer of pureed roasted garlic. Top with caramelized fennel and grated pecorino romano.
Bake in a 500°F oven until dough is crisp. Garnish with fennel fronds.

Availability
Fennel is at its peak in mid-late fall.
Selecting
Fennel's leaves, seeds and stems all have a sweet, faintly aniselike flavor. The stems of fennel swell and overlap at the base of the plant to form a bulb with white to pale green ribbed layers, similar to celery in appearance and texture. Light and feathery, the pretty green leaves slightly resemble fresh dill. Use them as a bed for steaming fish or in small amounts as a garnish. Choose fresh fennel bulbs that are smooth and tightly layered with no cracks or bruises. Fat, rounded bulbs with white and pale green color will tend to be more succulent than thin or yellow ones. Avoid any with wilted leaves or dried layers. Now available year-round, fennel is at its peak from late fall through winter. Grocers sometimes incorrectly label fennel as "sweet anise."
Preparing
Remove the green stems and leaves, saving them to flavor or garnish other dishes such as soups or fish. Discard the outer layer of the bulb if it is tough and cut away any discolored areas. Cut the bulb in half lengthwise and remove the base of the core if it is thick and solid. Gently separate the layers with your hands and rinse well to remove any grit between them. Slice or cut as directed in a recipe. It can be eaten raw or grilled, baked, braised or sautéed.
Storing
Keep fennel bulbs in a perforated plastic bag in the refrigerator for up to 5 days. If kept too long, they will lose their flavor and toughen.
All Ingredients