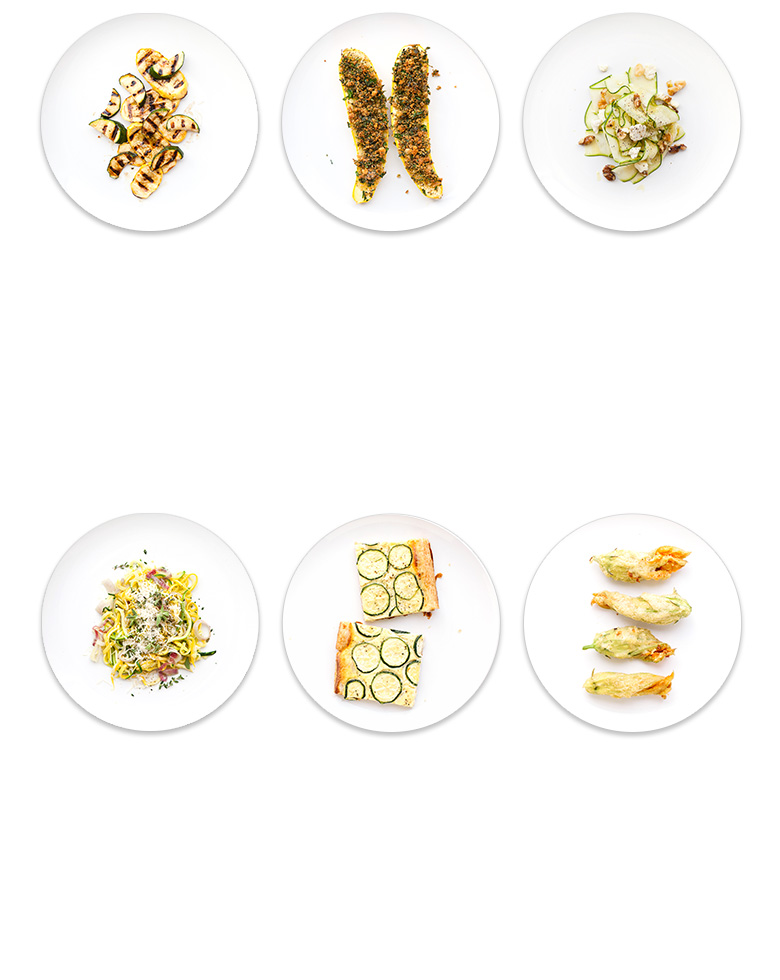 Grilled Summer Squash
Cut squash into slices 1/4-inch thick slices; toss with olive oil, salt and pepper.
Grill over high heat until nicely marked on both sides, then toss with balsamic vinaigrette.
Serve as a side dish or as part of an antipasti platter.
Baked Summer Squash with Herbed Bread Crumbs
Halve squash lengthwise, drizzle with olive oil and season with salt and pepper. Place cut-side up in a baking dish.
Toss bread crumbs with chopped fresh herbs, salt, pepper and olive oil; sprinkle over squash.
Bake at 350°F until golden brown, about 20 minutes.
Zucchini & Feta Salad
Using a mandoline, thinly slice zucchini lengthwise into long strips.
Toss with olive oil, lemon juice, salt, pepper, crumbled feta and chopped toasted pecans or walnuts.
Pasta with Summer Squash
Using a mandoline or spiralizer, cut zucchini and yellow squash into long julienne.
Sauté squash with chopped shallots in olive oil until tender.
Toss with drained cooked pasta, chopped fresh herbs and grated Parmigiano-Reggiano.
Zucchini Tart
Roll out puff pastry into rectangle.
Stir together feta, ricotta, lemon juice and an egg. Spread on pastry.
Arrange thinly sliced zucchini slices on top in a single layer. Brush with olive oil and bake at 350°F until nicely browned.
Stuffed Squash Blossoms
Stir together ricotta, Parmigiano-Reggiano, chopped mint, an egg yolk and salt.
Fill squash blossoms with cheese mixture. Dredge in 1/2 cup flour mixed with 1/4 tsp. salt and 3/4 cup sparkling water.
Fry in vegetable oil until golden.

Availability
Summer squash, such as zucchini, pattypan and yellow crookneck, are at their best during the summer.
Selecting
Select squash that are firm and heavy for their size. Small ones will have crisp texture and a sweet flavor; they become softer and more bitter as they grow bigger.
Preparing
Summer squash are ideal sautéed, baked, roasted or grilled to highlight their delicate texture but also take well to simmering, quick-steaming, frying, or gentle, slow cooking to bring out their sweetness. Sliced or grated raw, they are excellent in fresh salads and on antipasti plates. There is no need to peel the thin, delicate skin; simply rinse the squash, trim the ends, and then slice, chop or shred as called for in the recipe. Some recipes call for salting zucchini, especially larger ones, to remove excess moisture. Place zucchini slices in a colander, sprinkle with salt, and let stand for 15 to 30 minutes.
Storing
Store for up to 3 days wrapped in paper towels in a plastic bag in the refrigerator. Use delicate and highly perishable squash blossoms within 1 day of purchasing.
All Ingredients