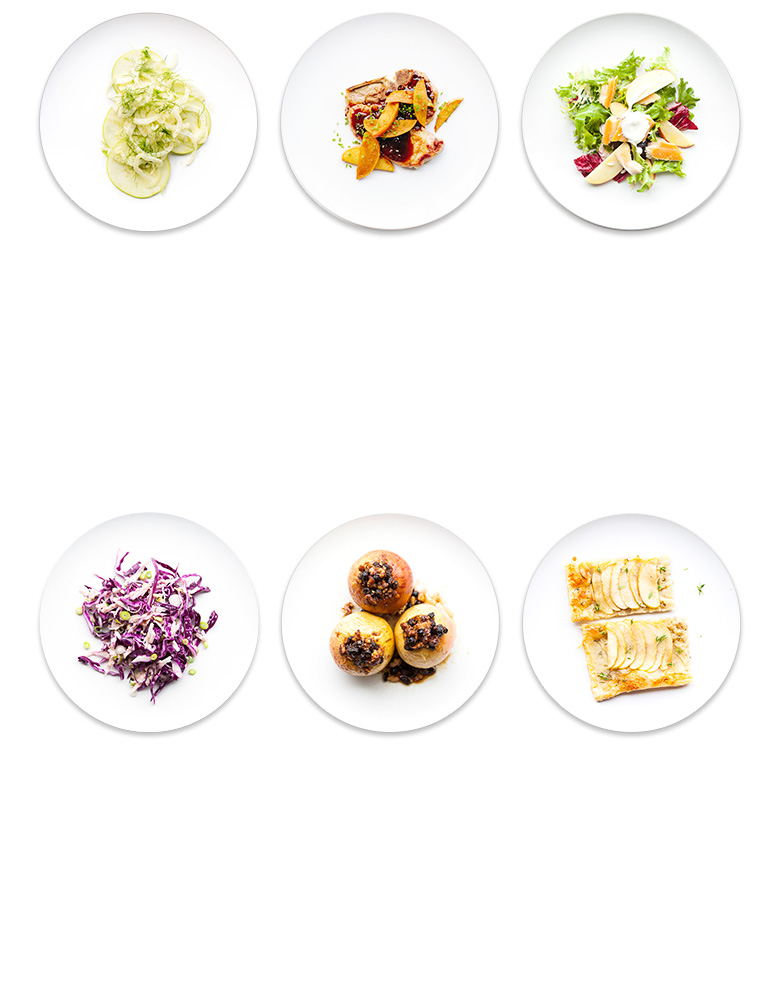 Shaved apple & Fennel salad
Whisk together apple cider vinegar, lemon juice, chopped fennel fronds, canola oil, salt and pepper.
Using a mandoline, thinly shave peeled Granny Smith apples and fennel. Toss with vinaigrette and garnish with fennel fronds.
Pork Chops with Apple-Calvados Sauce
Sear bone-in pork chops in sauté pan until browned; transfer to a baking sheet and finish in oven.
In same pan, sauté thinly sliced shallots and Gala apples until golden. Deglaze pan with Calvados. Add chicken stock and simmer until apples are tender. Whisk in butter, chives, salt and pepper. Serve over pork chops.
Smoked Trout & Apple Salad
Whisk together white wine vinegar, Dijon mustard, olive oil, salt and pepper.
Toss mixed greens with vinaigrette and thin slices of Fuji apple.
Top with pieces of smoked trout and a dollop of crème fraîche.
Cabbage & Apple Coleslaw
Combine thinly sliced cabbage with coarsely grated Granny Smith apples and thinly sliced green onions.
Whisk together mayonnaise, cider vinegar, sugar, salt and pepper.
Drizzle dressing over cabbage mixture; toss to combine.
Baked Apples with Walnuts & Raisins
Toss chopped walnuts and raisins with brown sugar, melted butter, cinnamon and nutmeg.
Fill 8 cored apples with walnut mixture; place in a buttered
baking dish.
Bake at 350°F until apples are tender and filling is bubbly, 40 to 50 minutes.
Savory Apple Tart with Gruyère
Placed chilled puff pastry on a parchment-lined baking sheet; brush pastry with olive oil.
Sprinkle with thyme leaves, salt and pepper; top with grated Gruyère and tart apple slices.
Bake at 400°F until golden brown, about 20 minutes.

Availability
Most apples are harvested from early autumn to early winter.
Selecting
The most recognizable varieties for eating fresh include Red Delicious, sweet Golden Delicious, tart and green Granny Smith, red-and-yellow-streaked Gala and the red-marbled McIntosh. Bakers seek out varieties such as Jonathan, Cortland, Pippin, Winesap, Gravenstein and Braeburn for their sturdy texture that balance sweetness with pronounced tartness and hints of spiciness. Look for unbroken skin with good color and no soft brown spots. Whenever possible, buy newly harvested local apples.
Preparing
A small, sharp knife is all you need for peeling and slicing apples, although a vegetable peeler may be easier for the novice cook to use. Specially designed apple corers are available. Exposed apple flesh quickly discolors unless it is rubbed with lemon or other citrus juice. Since the skin of the apple contains so many nutrients, it is a good idea to leave it on when possible.
Storing
Because apples continue to ripen at room temperature, refrigerate them in the cold back part of the refrigerator for 1 week or longer. If you plan to eat them soon after purchase, they can be held at room temperature for a few days.
All Ingredients