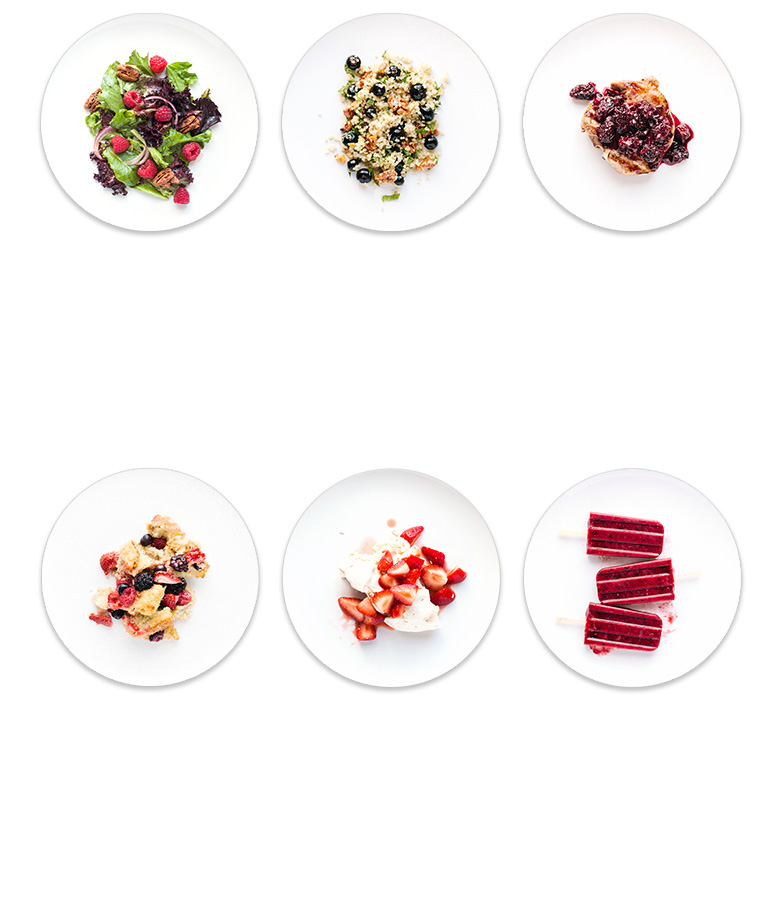 Mixed Greens with Raspberry Vinaigrette
Whisk together raspberry vinegar, olive oil, Dijon mustard, honey and salt.
Toss mixed greens, raspberries, candied pecans and thinly sliced red onions with vinaigrette.
Quinoa with Blueberries, Toasted Walnuts & Mint
Toss cooked quinoa with blueberries, toasted walnuts and a handful of chopped fresh mint.
Drizzle with walnut oil and
lemon juice.
Grilled Pork Chops with a Blackberry Port Sauce
Season pork chops with salt and pepper. Grill 4 to 5 minutes on each side.
Simmer blackberries, port,
chicken broth, honey and minced shallot until reduced and berries are soft. Drizzle on pork chops.
Berry Bread Pudding
Whisk together 6 eggs, 3 cups cream, 1 cup milk, 1 cup sugar, 1/2 tsp. vanilla extract and a pinch of salt. Pour over 1-inch cubes of ciabatta or other crusty bread and refrigerate overnight.
Fold in berries and bake at
350°F until set.
Pavlovas with Strawberries
Quarter 1 pint strawberries; toss with sugar and lemon juice.
Whip 3 egg whites, 3/4 cup sugar and 1/4 tsp. cream of tartar until stiff and glossy. Spread 3-inch disks of mixture on a baking sheet and bake at 250°F until crispy. Top meringues with strawberries.
Berry Popsicles
Puree berries, sugar and a
squeeze of lemon juice in a blender.
Strain, then pour into popsicle molds and add sticks. Freeze
until solid.

Availability
Berries are small, succulent fruits that grow on bushes, vines or canes. Although available year-round, they are more flavorful, plentiful and affordable in the spring and summer months. Exceptions are cranberries, which are in season in the autumn, and raspberries, which have a second harvest in the fall.
Selecting
Select berries with care. Never buy them if they are moist, overly soft, pale colored or show signs of mold. Do not buy berries if their cartons are leaking and wet, a sure sign that unseen fruits will be moldy. Berries are best in their natural growing season. Seek them out at large food stores, farmers' markets and pick-your-own farms.
Preparing
Although all fresh berries should be rinsed, do not soak them for any length of time since they will absorb water and turn mushy. For eating on their own, all berries, even the largest strawberries, should be left whole. To improve the flavor of lackluster berries, put them in a bowl (hull and slice strawberries first) and sprinkle with a tablespoon or two of sugar for every pint. Let stand at room temperature for at least 15 minutes. The sugar draws moisture from the berries to make a sweet natural syrup.
Storing
Berries are fragile, so handle them with care. All require refrigeration, and they freeze well. Don't wash berries until just before you are ready to eat them, as the moisture will encourage mold. If you don't plan to eat the berries within 1 to 2 days, rinse and dry them thoroughly and then freeze. To freeze blueberries, pack in rigid plastic containers. For more delicate raspberries, blackberries and hulled strawberries, spread in a single layer on a baking sheet and freeze until firm. Transfer the berries to rigid plastic containers or sealable plastic freezer bags and place in the freezer. Frozen berries will keep for 8 to 12 months. There is no need to thaw frozen berries for many recipes, including most sauces or ice creams. If a recipe calls for thawed berries, let them stand at room temperature for about an hour. If necessary, transfer them to a colander to drain.
All Ingredients