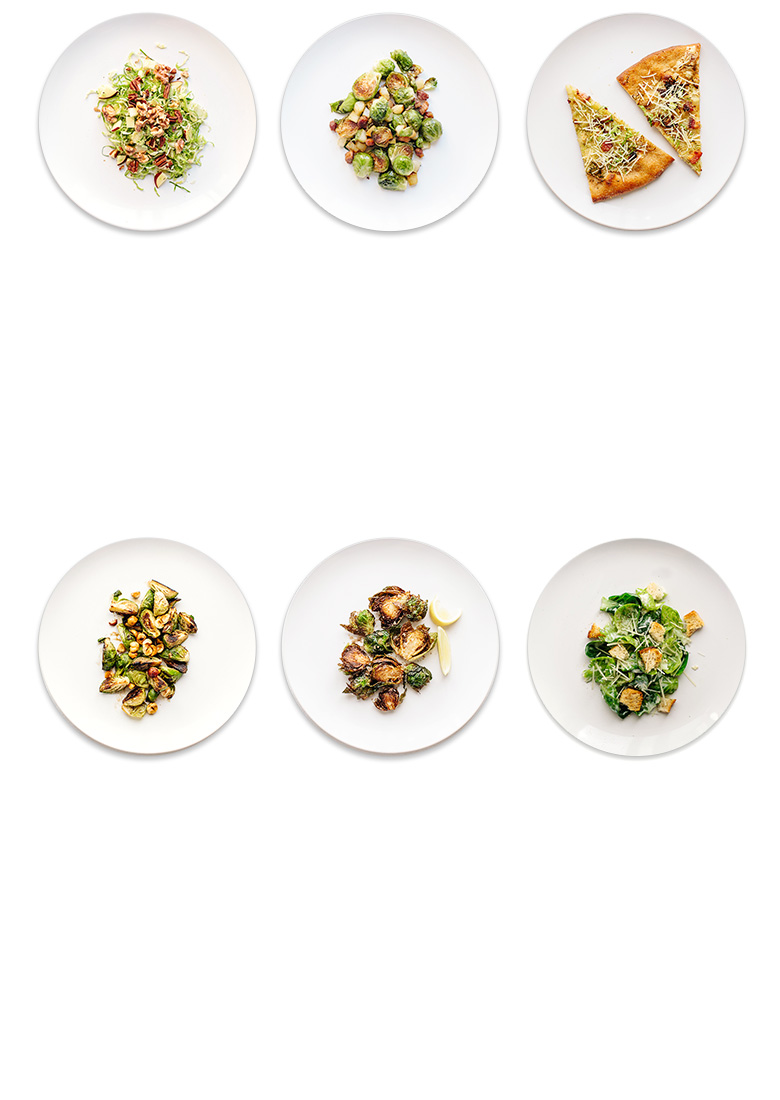 Shaved Brussels Sprouts with Apples, Walnuts & Pecans
Using a mandoline or food processor, shred brussels sprouts. Transfer to a large bowl.
Whisk together apple cider vinegar, olive oil, salt and pepper. Toss brussels sprouts with vinaigrette.
Add diced apples, toasted walnuts and toasted pecans and toss to combine.
Roasted Brussels Sprouts with Lardons & Pears
Cut thick-cut or slab bacon into 1/4-inch pieces. In an ovenproof pan over medium heat, sauté until crisp.
Increase heat to medium-high and add halved brussels sprouts and diced Comice pears.
Roast at 400°F until the brussels sprouts are caramelized, about 25 minutes, stirring once halfway through the cooking time.
Flatbread with Brussels Sprouts, Pancetta & Fontina
Sauté diced pancetta until browned. Cook sliced shallots in olive oil until caramelized.
Roll out pizza dough and top with a thin layer of pureed roasted garlic. Top with shredded fontina, shaved brussels sprouts, and the pancetta and shallots.
Bake in a 500°F oven until dough is crisp. Sprinkle with grated Parmesan.
Sautéed Brussels Sprouts with Browned Butter
Trim brussels sprouts and cut into quarters. Sauté in olive oil until browned.
Remove from pan, reduce heat to medium and add butter. Cook until browned and fragrant.
Return brussels sprouts to pan and toss to coat. Season with salt and pepper and finish with chopped toasted hazelnuts and aged balsamic vinegar.
Fried Brussels Sprouts
Trim brussels sprouts and halve lengthwise.
Working in batches, deep fry in vegetable oil at 350°F until well browned and the edges begin to curl. Transfer to paper towels to drain.
Finish with a squeeze of lemon juice and sprinkle with flaked sea salt.
Brussels Sprouts Caesar Salad
Separate brussels sprouts into individual leaves. Blanch, then immerse in cold water. Drain.
Whisk together minced garlic, mayonnaise, Dijon mustard, Worcestershire sauce, grated Parmesan and lemon juice. Season with salt and pepper and thin slightly with water.
Toss brussels sprouts with dressing to taste. Finish with croutons, shaved Parmesan and cracked black pepper.

Availability
Brussels sprouts grow best in cool, coastal regions and are in season in the fall and winter. They may be boiled, braised or steamed, or parboiled and then sautéed.
Selecting
Buy fresh brussels sprouts that are heavy for their size and bright green, with leaves clinging tightly to the heads. Avoid any with yellowing leaves, which indicate aging. They may be pale green at the base. Check that the stem ends are freshly cut. Also avoid soft heads with loose leaves. Small heads, about 1 inch in diameter, are usually preferable to large ones, which can be almost twice that size. If the large heads are dark green and firm, however, they should taste good. Fresh brussels sprouts are sold loose or packed in pint baskets or small tubs, although at some farmers' markets you can buy them on the stalks. Brussels sprouts freeze well, so if fresh are not available, buy them frozen.
Preparing
Rinse and dry the heads. Trim any brown outside leaves and trim away the stem ends. Cut a shallow X into the stem end before cooking so that the heads will cook quickly and evenly. Larger heads can be halved or quartered before cooking. If you encounter loose-leafed brussels sprouts, simply take apart the heads and separate and steam the individual leaves.
Storing
Store in plastic bags or the original packaging in the refrigerator for up to 4 days, but try to eat them as soon as possible after purchase. To freeze, rinse and dry the heads and blanch for 4 to 5 minutes, depending on their size. Then refresh in cold water, drain and freeze in sturdy freezer bags or rigid containers.
All Ingredients