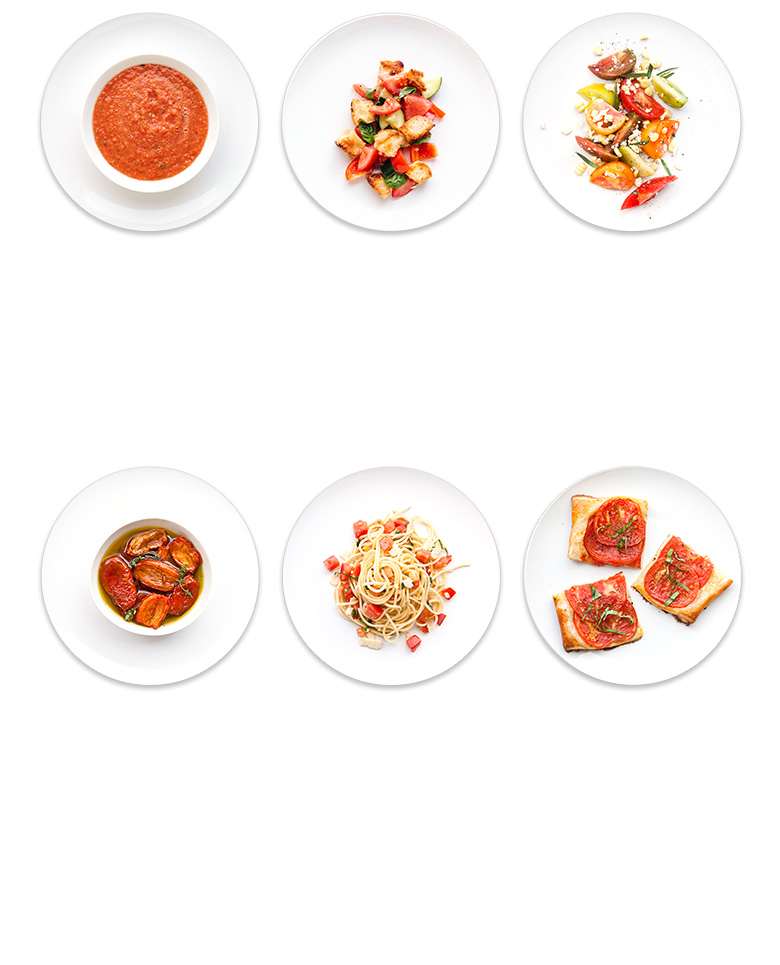 Gazpacho
Coarsely chop tomatoes, cucumber, red onion and bell pepper. Purée in a blender until smooth.
In a bowl, stir minced garlic, vinegar and olive oil into the purée. Chill before serving.
Panzanella
Cut bread into 1-inch cubes. Sauté with olive oil until crispy.
Whisk together lemon juice, olive oil, salt and pepper. Toss toasted bread with chopped tomato, cucumber, bell pepper, basil and vinaigrette.
Heirloom Tomato Salad
Cut heirloom tomatoes into wedges. Toss with fresh tarragon, crumbled goat cheese and fresh corn kernels, either raw or blanched.
Drizzle with champagne vinegar and extra-virgin olive oil and toss to combine.
Oven-Dried Tomatoes
Stem, quarter and seed plum tomatoes. Arrange cut-side up on parchment-lined baking sheets. Drizzle with olive oil and season with salt.
Roast at 200°F until slightly shriveled, about 4 hours. Pack cooled tomatoes in a canning jar with thyme sprigs and olive oil; refrigerate up to 1 week.
Pasta with Fresh Tomatoes
Toss together diced tomatoes, minced shallot and garlic, slivered basil, shaved pecorino romano, olive oil, red wine vinegar, salt and pepper.
Top with drained cooked pasta. Let stand a few minutes before tossing.
Tomato & Basil Tart
Place a puff pastry rectangle on a parchment-lined baking sheet.
Top with thinly sliced tomatoes, leaving a 1/4-inch border. Sprinkle with olive oil, salt and pepper; brush the pastry with egg wash.
Bake at 400°F until pastry is golden, 25 to 30 minutes, and garnish with slivered basil.

Availability
Although tomatoes are available year-round, they are best when eaten at the height of their natural season, usually June through September.
Selecting
For the best summer tomatoes, visit farm stands, farmers' markets and natural-food stores for vine-ripened tomatoes, or grow your own. Choose organic tomatoes, if possible, as they are likely to be more flavorful. When fresh tomatoes are out of season, use canned (or packaged) imported plum tomatoes, usually called Italian tomatoes. They will have a much better flavor than will poor-quality fresh ones.
Preparing
Wash and dry tomatoes first. Cut out the stem end and leave the tomatoes whole or cut them (crosswise or lengthwise) into slices or into wedges, or chop, according to the recipe. Pull off the stems of cherry tomatoes.
Storing
Store ripe tomatoes at room temperature for up to 3 days. If they are slightly unripe, put them in a sunny place for several days, and they will ripen further. Although whole tomatoes should not be refrigerated, cut tomatoes, wrapped in plastic wrap or waxed paper, should be refrigerated.
All Ingredients