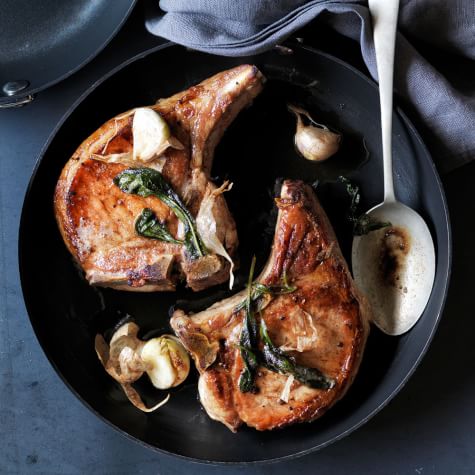 Garlic and Thyme Brined Pork Chops
Lean pork chops benefit from brining, or being soaked in a flavorful saltwater solution, to ensure juicy results. For an easy weeknight dinner, simply brine the chops the night before. Then, when you get home the next day, you can have dinner on the table in a matter of minutes. Be sure to bring the brine to room temperature before adding the chops.
Ingredients:
For the brine:
1/4 cup (2 oz./60 g) kosher salt
1/4 cup (2 oz./60 g) sugar
4 garlic cloves, lightly crushed
8 black peppercorns
4 juniper berries
3 fresh thyme sprigs
1 bay leaf
2 cups (8 oz./250 g) ice cubes

2 bone-in center-cut pork chops, each about 1 inch (2.5 cm) thick
Kosher salt and freshly ground black pepper
1 Tbs. extra-virgin olive oil
2 Tbs. unsalted butter
1 garlic clove, lightly crushed
1 fresh thyme sprig
Directions:
To make the brine, in a saucepan over medium heat, combine 3 cups (24 fl. oz./750 ml) water, the salt, sugar, garlic, peppercorns, juniper berries, thyme and bay leaf and stir until the salt and sugar are dissolved. Pour the brine into a large bowl and add the ice cubes. Let the brine cool to room temperature.
Add the pork chops to the brine. Cover and refrigerate for at least 2 hours and up to overnight.

Preheat an oven to 400°F (200°C).

Remove the pork chops from the brine and discard the brine. Pat the pork chops dry with paper towels and let sit at room temperature for 20 minutes. Season the pork chops with salt and pepper.

In a large fry pan over medium-high heat, warm the olive oil. Add the pork chops and sear, turning once, until golden brown on both sides, about 3 minutes per side. Add the butter, garlic and thyme to the pan and heat until the butter is melted. Carefully tilt the pan so the butter pools at the edge of the pan and use a spoon to baste the chops. Transfer the pork chops to the oven and continue cooking until an instant-read thermometer inserted into the center of the chops registers 145°F (63°C), about 5 minutes more. Transfer the pork chops to a platter and let rest for 5 minutes before serving. Serves 2.

Williams-Sonoma Test Kitchen