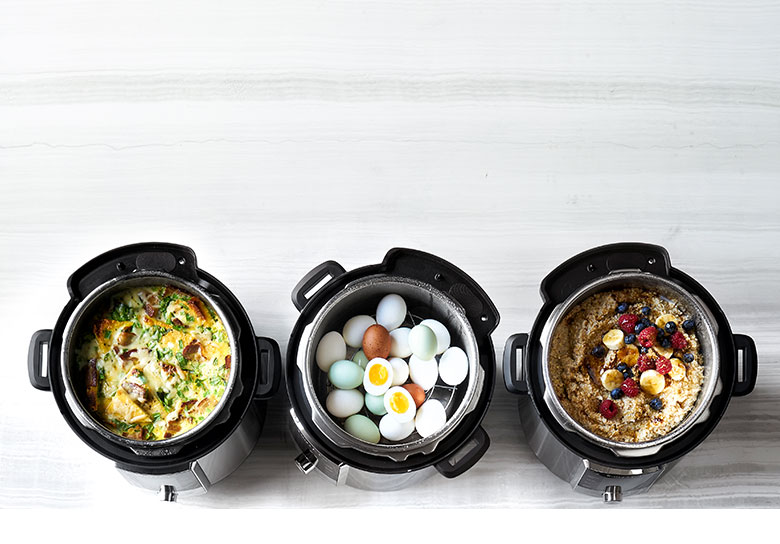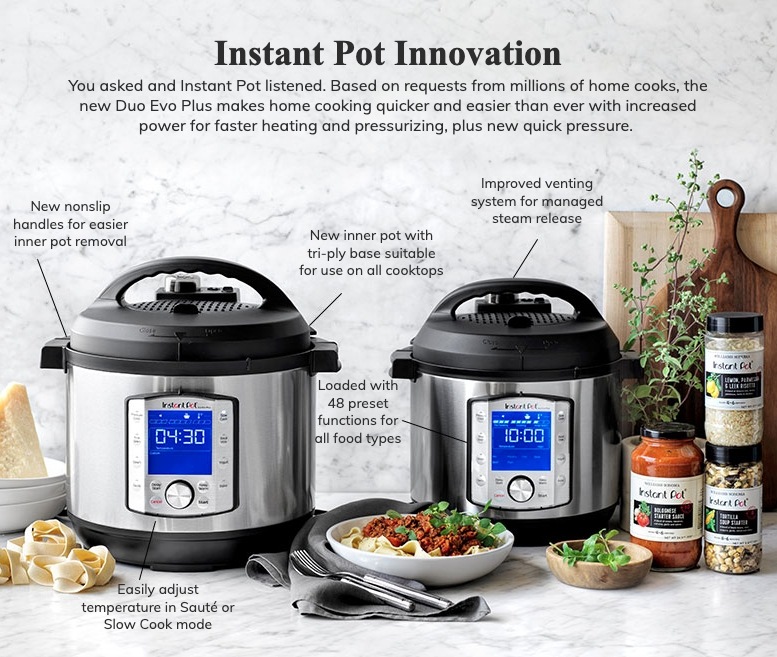 5 Reasons People Love the Instant Pot

1. IT MAKES PRESSURE COOKING EASY
Let's be honest: vintage pressure cookers—with their steam dials, multiple latches,
and robot-like silver exteriors—are the opposite of intuitive. Instant Pot boasts
easy-to-remove lids, safety features, preset buttons, and even searing functionality
that offers a simpler way to pressure cook.
2. AND IT SLOW COOKS TOO!
If you're in the mood for low and slow—whether it's a braise, a delicate soup,
pulled pork or beef stew—your Instant Pot can get you there. Its slow cooking
feature is the cherry on top of all the wonderful things it can do.
3. IT SAVES COUNTER SPACE
Neat and trim, with a removable cord, this gadget is a svelte addition to your
countertop that could easily replace a rice cooker, a slow cooker or your old,
wonky pressure cooker. (Throw those back into storage!)
4. OPERATES AT THE PUSH OF A BUTTON
Craving homemade yogurt? Porridge? Beans or beef stew? There are buttons
for all of these, which makes it easy to experiment, whip up staples
or work without a recipe.
5. SEASONS AND COOKS EVENLY
What cook hasn't frowned to see some black beans melting into nothingness
while others remain stubbornly tough? Or noticed that a roast is unevenly cooked?
An Instant Pot shines when it comes to even cooking and seasoning: beans are
cooked to equal tenderness and salt, miraculously, is distributed perfectly
throughout the whole dish.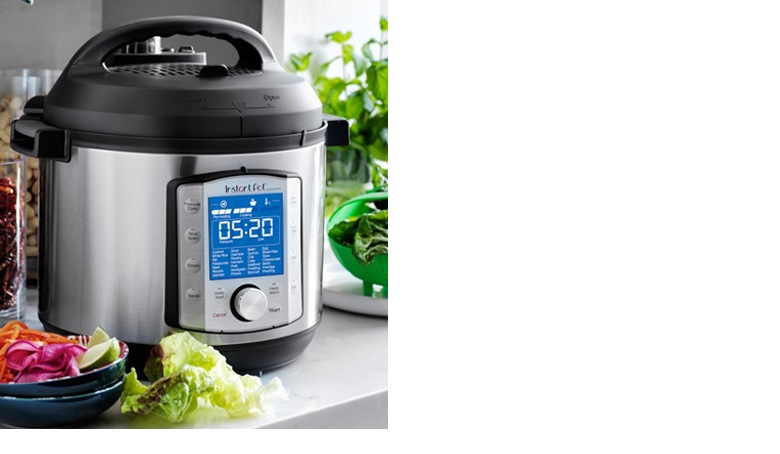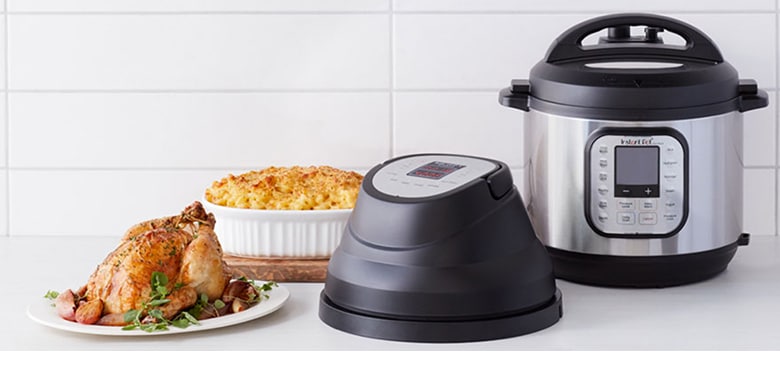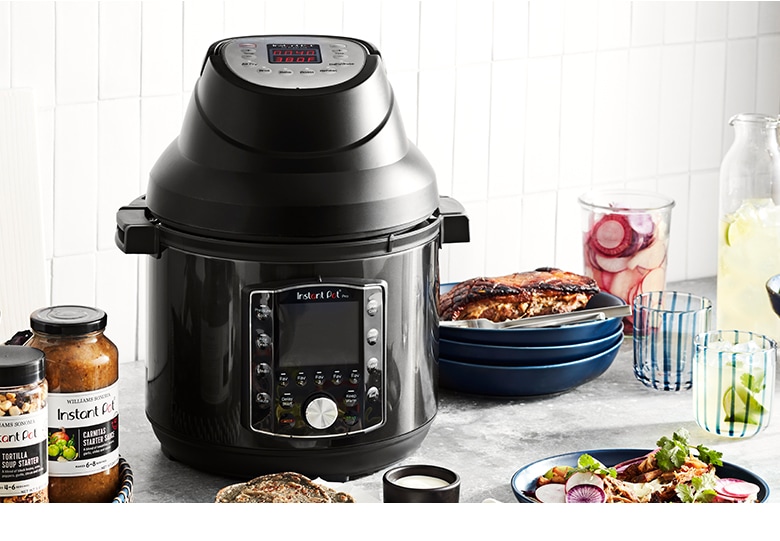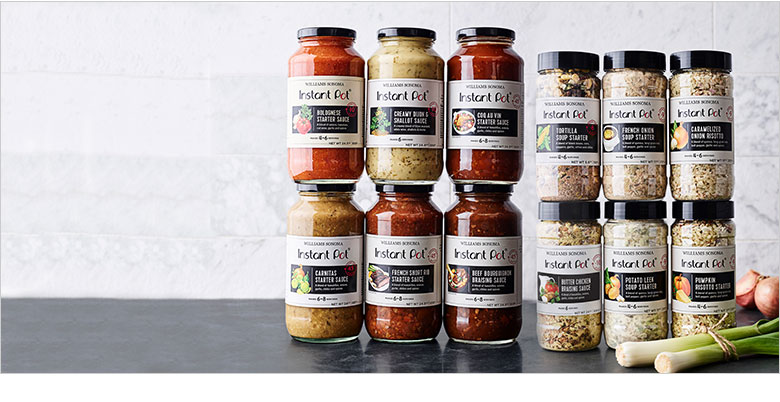 Instant Pot Recipes to Try
Recipes created specifically for the Instant Pot take into account the appliance's specific
settings and tight-sealing lid. Once you're familiar with Instant Pot cooking, experiment by
converting your favourite slow cooker or stovetop recipes for the Instant Pot.
What's the difference between
an Instant Pot and a Slow Cooker?
An Instant Pot is pressurized, meaning it can
cook food much more quickly than a slow
cooker. The tight-fitting lid traps the steam
rising from the food and builds up pressure
and temperature within the pot. With the
Instant Pot you can customize your pressure
level—high pressure is used for dishes like
meat, stews or soups, while low pressure is
handy for more delicate dishes like rice,
vegetables or seafood.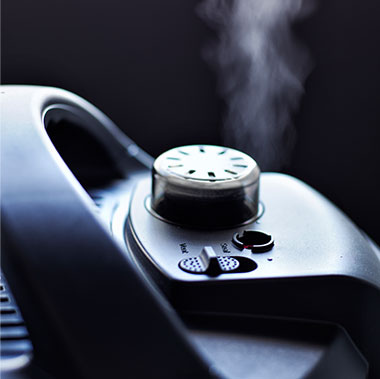 How do you clean the Instant Pot?
Cleaning the Instant Pot is easy: After normal
cooking you can simply put the inner pot in the
dishwasher and wipe down the housing unit to
clean splashes or splatters. Then, remove the
antiblock shield underneath the lid, wash it
with warm, soapy water and let it dry before
re-attaching to the lid. To keep your Instant Pot
functioning at peak performance, you'll need
to deep clean every few uses. For that, remove
the silicone sealing ring and pop that in the top
rack of the dishwasher, along with the Instant
Pot lid, which is also top-rack dishwasher safe.
Then, use a damp cloth to remove any food
particles or buildup around the edge of
the external housing unit.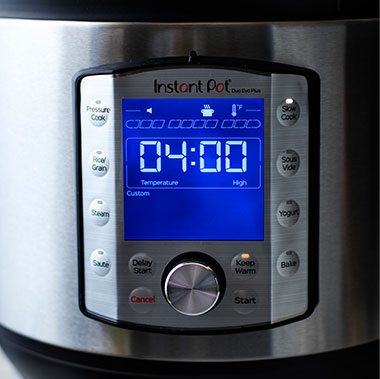 When do you use natural release
and when do you use quick release?
Natural release gradually releases pressure,
which can take anywhere from 10 to 20
minutes, and allows for a bit of extra cooking
time as the pressure comes down. Quick
release (also known as "venting" or "manual
release") quickly releases pressure and stops
the cooking process almost immediately.
In general, you use quick release for
quicker-cooking foods such as seafood or
vegetables, and natural release for anything
else, but follow the instructions on your recipe
when deciding what release method to use.