Shun Classic Western Chef's Knife, 8"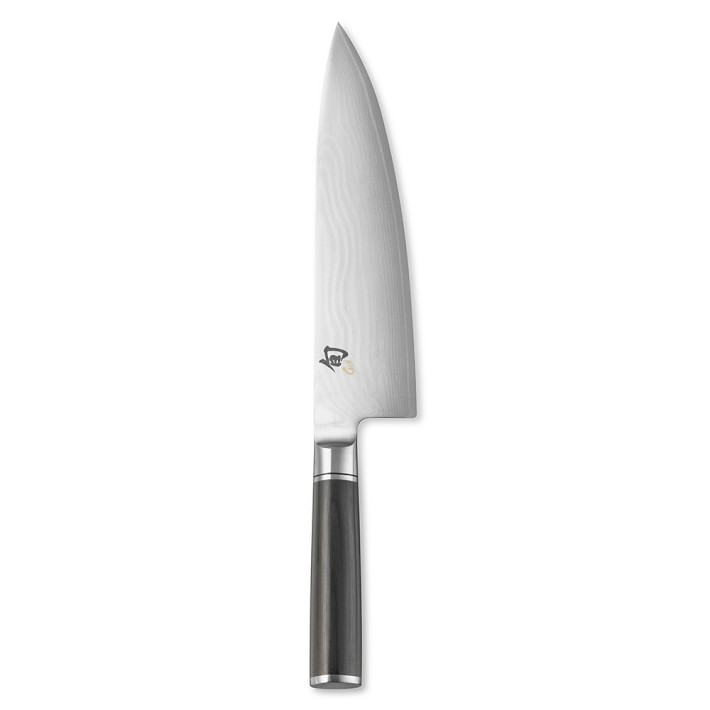 Summary
Combining the best of two knife-making traditions, this knife from our Shun Classic line has a thicker blade than traditional Japanese cutlery & a 22-degree cutting edge modelled after European chef's knives. The thicker, heftier blade allows it be used for heavy-duty cutting tasks while still offering the superb edge retention of the Shun Classic VG-Max "super steel" blade.
Japanese-made chef's knife with the 22-degree blade-edge angle of Western kitchen cutlery.
Appropriate for tasks such as cleaving, cutting through chicken bones, cracking crab shells & preparing melon fruits with thick rinds.
Thick, strong blade offers more belly curve for rocking cuts.
Broad blade is useful for transferring chopped foods from cutting board to pot.
VG-MAX "super steel" blade is clad on each side with 34 microthin layers of stainless-steel, creating a variegated look reminiscent of a Damascus-style blade.
Durable PakkaWood handle resists moisture & is D-shaped to sit comfortably in the hand.
Extra weight in stainless-steel bolster balances the heavy blade.
6" knife: 6"-long blade; 5"-long handle; 6.8 oz.
8" knife: 8 1/4"-long blade, 5"-long handle; 8 oz.
This NSF-certified knife meets the high-level safety standards for professional kitchens.
Handcrafted in Japan.
Use & Care
Use
Always use caution when handling sharp objects.
Avoid cutting on hard surfaces such as stone, metal or glass.
It is not advisable to use any knife but a meat cleaver to cut through bone, as other blades can be easily damaged.
Care
Hand-wash with warm water & a mild detergent; rinse & dry immediately.
Avoid cleaners containing bleach or citrus extracts.
Sharpen as needed. With regular use & honing once a week, your knife should not need sharpening more than once or twice a year.
Sharpen your knife at home using a whetstone or knife sharpener designed to sharpen at a 22-degree angle or have it sharpened by a professional.
Store knife in a safe place to protect its edge & prevent injury.
Shipping & Returns
SHIPPING
Standard Parcel Shipping with Front Door Delivery
Smaller items are shipped using our Standard Parcel service, and delivered by Canada Post or Purolator. Items ordered together may not arrive in the same box. If your package cannot be delivered, you will receive a notice from the carrier with pick-up instructions or re-delivery options.
Unlimited Flat Rate Shipping with In-Home Delivery & Assembly
An unlimited number of eligible furniture items can be delivered for a single flat rate, per shipping address. These items will be delivered by our In-Home Delivery & Assembly service provider where items are brought into your home, unpacked and assembled (some exclusions apply) and the packaging is responsibly removed.
Eligible items will show "Unlimited Flat Rate Delivery" on the product page.
The exact shipping charge is based on your location, and delivery times vary based on item availability. For more details, please see our Shipping page.
EASY RETURNS
At Williams Sonoma, we take great pride in the quality and craftsmanship of our products. Attention to design, materials, safety and construction are our priority. Upon receipt, please inspect your purchase and notify us of any damage; we will arrange for a prompt replacement.
Within 30 days, you may return most items for a refund of the merchandise value. An original receipt or gift receipt is required for all returns and exchanges. Returns with a gift receipt will be refunded in the form of a Merchandise Credit for the amount indicated on the gift receipt. Returns with original receipt will be refunded in the original form of payment, cash and cheque refunds over $100 will be issued as a company cheque (may take 14 business days from time of request). Please note that returned items must be in new condition.
Knife returns (knife sets, single knives, cutting boards, knife sharpeners and knife storage) may require extra information and safety instructions. To initiate your return, please contact us at 1-855-860-1081 or visit us at your local store.
Non-Returnable Items
Personalized or monogrammed items
Special-order items
Food products
Used or soiled items and items damaged through normal wear and tear
Final Sale items ending in .99, .97, .98
Gift cards
How to Begin a Return
Stores:  You can return most items to your local Williams Sonoma location. An original receipt, gift receipt or order number is required—our stores will not accept returns or exchanges without proof of purchase.
Return by phone:  Our customer care associates are ready to help, please call 1-855-860-1081. For oversized items please call us for more details.
Some restrictions apply, see our full Returns Policy.
Shun Classic Western Chef's Knife, 8"
Item
Price
Delivery Surcharge
Shun Classic Western Chef's Knife, 8"

$

269.95

$

0

Shun Classic Western Chef's Knife, 6"
Reg. Price

$

229.95

Now

$

184.95

$

0
Pricing may vary at time of purchase.
Product subject to availability. If you have any questions regarding this item(s), please call
1 855-860-1081
.