Breville Barista Touch Espresso Machine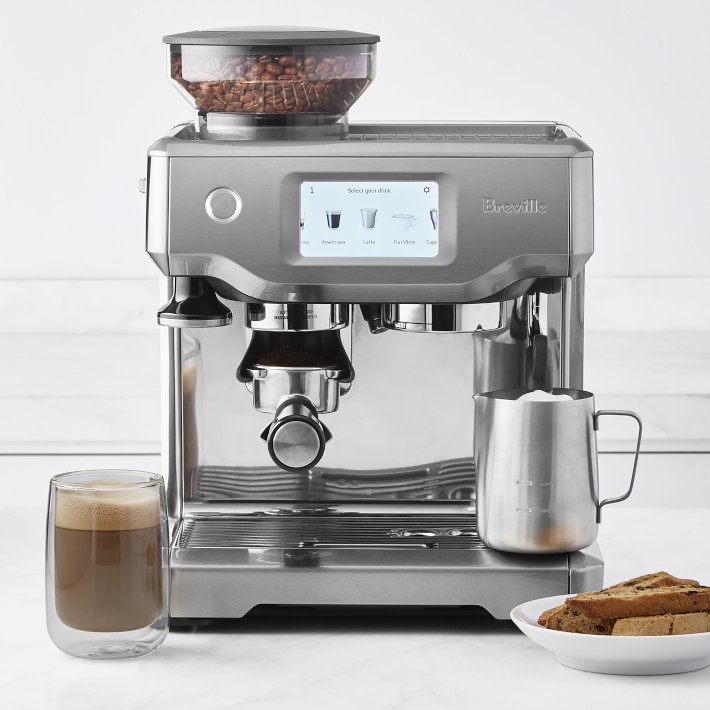 Summary
The perfect café-quality cup is just a touch away with the Breville Barista Touch – simply swipe through the pictorial touchscreen menu to select your favourite coffee drink. Automatic milk texturing creates the ideal foam for lattes, flat whites and cappuccinos. And with zero heat-up time, there's no waiting between coffee brewing and milk frothing.
User-friendly colour touchscreen lets you swipe through options to select drinks.
Menu includes espresso, Americano, latte, flat white, cappuccino, plus the option to add 8 personalized beverages.
Brews 1 or 2 cups at a time.
Adjust shot volume, milk texture and milk temperature, then save combination of settings as a favourite.
Automatic hands-free milk texturing based on selected temperature and style, from silky latte to creamy cappuccino.
Innovative heating system reaches ideal brew temperature in just 3 seconds.
Onscreen tutorials guide you through each step.
Bean hopper with built-in stainless-steel conical burr grinder.
Automatic grind dosing delivers ideal amount of coffee to portafilter on demand, ready to be tamped and trimmed.
Patented Razor™ tool trims down puck to ideal level for precision dosing and consistent extraction.
Dimensions & More Info
13 1/4" x 12 1/2" x 15 3/4" high.
23 lb.
68-fl.-oz.-cap. removable water tank.
8-oz.-cap. removable bean hopper.
1800W.
Model #BES880.
This product is intended for use in the United States and Canada and is built to United States electrical standards.
Designed and engineered in Australia, made in China.
Additional Information
54mm portafilter and tamper.
Electronic PID temperature control for increased temperature stability.
Low-pressure pre-infusion gently expands grinds for even extraction.
Consistent 15-bar extraction pressure with Italian-made pump.
Manual grind dosing and milk texturing also available.
Automatic purge removes residual milk from steam wand.
Adjustable grind size from fine to coarse for optimal extraction.
Dry puck feature removes excess water from ground coffee in filter basket after extraction for easy disposal of coffee puck.
Extra-tall cup clearance for tall mugs and glasses.
Dedicated hot water outlet for making Americanos and preheating cups.
Heated cup warming tray on top.
Storage tray houses accessories when not in use.
Breville Assist Plug features a finger hole for easy removal from power outlet.
Replaceable water filter removes impurities and prevents scale buildup.
Automatic cleaning and descaling cycles.
Brushed stainless-steel body.
All parts that come in contact with coffee are BPA-free.
Includes stainless-steel milk jug plus 1-cup and 2-cup filter baskets.
Use & Care
Care
Message prompt will appear when cleaning cycle is required. This is a back-flushing cycle and is separate from descaling. Follow instruction on screen.
Outer housing and cup-warming tray can be cleaned with a soft, damp cloth. Polish with a soft, dry cloth. Do not use abrasive cleansers, pads or cloths, which can scratch surfaces.
Steam wand should always be cleaned after texturing milk. Wipe steam wand with a damp cloth.
Filter baskets and portafilter should be rinsed under hot water immediately after use to remove all residual coffee oils.
Conical burr grinder: Grinder cleaning cycle removes oil buildup on burrs, which can impede performance.
Drip tray should be removed, emptied and cleaned at regular intervals, particularly when drip tray full indicator displays "EMPTY ME!"
Descaling: In addition to using the provided water filter, we recommend descaling if there is visible scale buildup in water tank. Go to "Settings" and select "Descale Cycle." Follow instructions on screen.
Colors Available
Black Truffle

Damson Blue

Stainless Steel

Black Stainless Steel
Shipping & Returns
SHIPPING
Standard Parcel Shipping with Front Door Delivery
Smaller items are shipped using our Standard Parcel service, and delivered by Canada Post or Purolator. Items ordered together may not arrive in the same box. If your package cannot be delivered, you will receive a notice from the carrier with pick-up instructions or re-delivery options.
Unlimited Flat Rate Shipping with In-Home Delivery & Assembly
An unlimited number of eligible furniture items can be delivered for a single flat rate, per shipping address. These items will be delivered by our In-Home Delivery & Assembly service provider where items are brought into your home, unpacked and assembled (some exclusions apply) and the packaging is responsibly removed.
Eligible items will show ""Unlimited Flat Rate Delivery"" on the product page.
The exact shipping charge is based on your location, and delivery times vary based on item availability. For more details, please see our Shipping page.
EASY RETURNS
At Williams Sonoma, we take great pride in the quality and craftsmanship of our products. Attention to design, materials, safety and construction are our priority. Upon receipt, please inspect your purchase and notify us of any damage; we will arrange for a prompt replacement.
Within 30 days, you may return most items for a refund of the merchandise value. An original receipt or gift receipt is required for all returns and exchanges. Returns with a gift receipt will be refunded in the form of a Merchandise Credit for the amount indicated on the gift receipt. Returns with original receipt will be refunded in the original form of payment, cash and cheque refunds over $100 will be issued as a company cheque (may take 14 business days from time of request). Please note that returned items must be in new condition.
Knife returns (knife sets, single knives, cutting boards, knife sharpeners and knife storage) may require extra information and safety instructions. To initiate your return, please contact us at 1-855-860-1081 or visit us at your local store.
Non-Returnable Items
Personalized or monogrammed items
Special-order items
Food products
Used or soiled items and items damaged through normal wear and tear
Final Sale items ending in .99, .97, .98
Gift cards
How to Begin a Return
Stores:  You can return most items to your local Williams Sonoma location. An original receipt, gift receipt or order number is required—our stores will not accept returns or exchanges without proof of purchase.
Return by phone:  Our customer care associates are ready to help, please call 1-855-860-1081. For oversized items please call us for more details.
Some restrictions apply, see our full Returns Policy.
Breville Barista Touch Espresso Machine
Item
Price
Delivery Surcharge
Breville Barista Touch Espresso Machine, Black Truffle

$

1,699.95

$

0

Breville Barista Touch Espresso Machine, Damson Blue

$

1,699.95

$

0

Breville Barista Touch Espresso Maker

$

1,699.95

$

0

Breville Barista Touch Espresso Machine, Black Stainless-Steel

$

1,699.95

$

0
Pricing may vary at time of purchase.
Product subject to availability. If you have any questions regarding this item(s), please call
1 855-860-1081
.