All-Clad d5 Stainless-Steel Nonstick Omelette Pan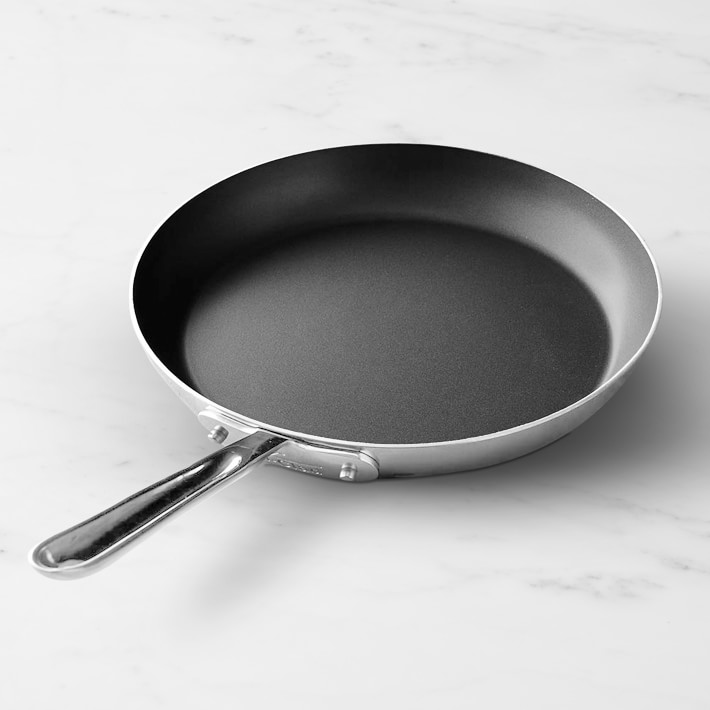 Summary
An essential for egg lovers, the All-Clad d5 Stainless-Steel Nonstick Omelette Pan is ideal for making all types of egg dishes thanks to its shallow side walls. The only cookware of its kind, it features a patented technology of five alternating layers of responsive aluminum & durable heat-diffusing stainless-steel. d5 stainless-steel cookware heats slowly & evenly, which means perfectly browned proteins throughout, from the centre all the way to the edges. All-Clad cookware's PFOA-free nonstick coating ensure effortless food release & make cleanup a breeze. Experience a lifetime of cooking enjoyment with All-Clad d5 Stainless-Steel.
5-ply bonded construction with alternating layers of stainless-steel & conductive aluminum provides warp-free strength & even heating throughout.
PFOA-free nonstick coating for healthier cooking with less fat.
Stainless-steel handle with large bolster is permanently secured with stainless-steel rivets.
Nonstick interior ensures easy release of the stickiest foods.
Oven & broiler safe up to 500°F.
Optimized for induction.
Capacity etched on base.
Limited lifetime warranty.
Commercial Grade: Thoughtfully designed & expertly engineered to meet rigourous standards & best practices from select commercial testing.
Dimensions & More Info
9" Pan: 9" diam., 1 3/4" high; 1 lb. 15 oz.
10 1/2" Pan: 10 1/2" diam., 3" high; 2 lb. 5 oz.
Additional Information
Model #SD551092 NS R1.
Pan size etched on base for quick identification.
Ideal for use on any cooktop, including induction.
Bonded, engineered & assembled in USA.
Use & Care
Use
Ideal for use on any type of cooktop, including induction.
Oven & broiler safe to 500°F.
Use wood, plastic or heat-resistant nylon tools to avoid scratching the nonstick surface.
Care
Wash pan before first use.
Allow pan to cool prior to cleaning.
Hand-wash to maintain pan's beauty. Rinse off excess food with warm water. Soak in warm soapy water, then wash with sponge or soft cloth. Use nylon scouring pad for more difficult cleaning. Rinse with warm water & dry immediately to prevent spotting.
Some stains & stuck-on food may take more effort to remove.
To remove discolouration like blue or rainbow colouring, use soft cloth or sponge to wipe pan with white vinegar.
To remove cloudy-white hard water spots, boil solution of 1 part white vinegar & 1 part water in pan.
To remove burnt food, sprinkle surface generously with baking soda, add water & bring to a boil. Use wooden spoon to loosen food particles from surface.
To remove tough-to-clean spots or marks like burnt fat, protein shadows & charred food, clean with non-abrasive, non-chlorine cleanser, like All-Clad cookware cleaner, Bar Keepers Friend or Bon Ami. Mix cookware cleanser & small amount of water to form paste. Use soft cloth or sponge to apply paste, rubbing in circular motion. Rinse with warm water & dry immediately. Repeat if necessary, allowing paste to soak on pan before scrubbing.
Avoid using oven cleaners, steel wool, steel scouring pads, harsh detergents & detergents containing chlorine bleach, which can cause damage.
Use nylon scrubbing pads only on stainless-steel surfaces; do not use on nonstick surfaces. Never place hot pan under cold water, as this can cause warping.
With the exception of preheating, empty pan should not be left on hot burner, as this can cause damage.
PRICE MATCH GUARANTEE
At Williams Sonoma, we're committed to bringing you the best quality at the best prices. If you find a lower price on any of our products, we'll match it – guaranteed. Click here for details.
Shipping & Returns
SHIPPING
Standard Parcel Shipping with Front Door Delivery
Smaller items are shipped using our Standard Parcel service, and delivered by Canada Post or Purolator. Items ordered together may not arrive in the same box. If your package cannot be delivered, you will receive a notice from the carrier with pick-up instructions or re-delivery options.
Unlimited Flat Rate Shipping with In-Home Delivery & Assembly
An unlimited number of eligible furniture items can be delivered for a single flat rate, per shipping address. These items will be delivered by our In-Home Delivery & Assembly service provider where items are brought into your home, unpacked and assembled (some exclusions apply) and the packaging is responsibly removed.
Eligible items will show "Unlimited Flat Rate Delivery" on the product page.
The exact shipping charge is based on your location, and delivery times vary based on item availability. For more details, please see our Shipping page.
EASY RETURNS
At Williams Sonoma, we take great pride in the quality and craftsmanship of our products. Attention to design, materials, safety and construction are our priority. Upon receipt, please inspect your purchase and notify us of any damage; we will arrange for a prompt replacement.
Within 30 days, you may return most items for a refund of the merchandise value. An original receipt or gift receipt is required for all returns and exchanges. Returns with a gift receipt will be refunded in the form of a Merchandise Credit for the amount indicated on the gift receipt. Returns with original receipt will be refunded in the original form of payment, cash and cheque refunds over $100 will be issued as a company cheque (may take 14 business days from time of request). Please note that returned items must be in new condition.
Knife returns (knife sets, single knives, cutting boards, knife sharpeners and knife storage) may require extra information and safety instructions. To initiate your return, please contact us at 1-855-860-1081 or visit us at your local store.
Non-Returnable Items
Personalized or monogrammed items
Special-order items
Food products
Made to Order items, including custom furniture, upholstery and custom rugs
Hardwired lighting and ceiling fans

Mattresses
Outdoor grills
Used or soiled items and items damaged through normal wear and tear
Final Sale items ending in .97, .98, .99
Gift cards
Made to Order and Final Sale Furniture items are non-returnable and cannot be cancelled once the order is placed.
For returns of items purchased from your Williams Sonoma Gift Registry, we will gladly provide a refund or exchange for the merchandise within 90 days of your event or within 90 days of purchase, whichever date is later.
How to Begin a Return
Stores:  You can return most items to your local Williams Sonoma location. An original receipt, gift receipt or order number is required—our stores will not accept returns or exchanges without proof of purchase.
Return by phone:  Our customer care associates are ready to help, please call 1-855-860-1081. For oversized items please call us for more details.
Some restrictions apply, see our full Returns Policy.
All-Clad d5 Stainless-Steel Nonstick Omelette Pan
Item
Price
Delivery Surcharge
All-Clad d5 Stainless-Steel Nonstick Omelette Pan, 10 1/2"

$

179.95

$

0

All-Clad d5 Stainless-Steel Nonstick Omelette Pan, 9"

$

149.95

$

0
Pricing may vary at time of purchase.
Product subject to availability. If you have any questions regarding this item(s), please call
1 855-860-1081
.